Software Maintenance Management: Evaluation and Continuous Improvement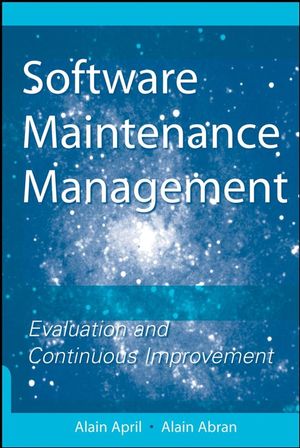 Software Maintenance Management: Evaluation and Continuous Improvement
ISBN: 978-0-470-25803-3
Apr 2012, Wiley-IEEE Computer Society Pr
225 pages
Description
This book explores the domain of software maintenance management and provides road maps for improving software maintenance organizations. It describes full maintenance maturity models organized by levels 1, 2, and 3, which allow for benchmarking and continuous improvement paths. Goals for each key practice area are also provided, and the model presented is fully aligned with the architecture and framework of software development maturity models of CMMI and ISO 15504. It is complete with case studies, figures, tables, and graphs.
Foreword (Thomas Pigoski)
Foreword (Ned Chapin)
Preface.
1. Maintenance Issues and Related Management Approaches.
2. Maturity Models in Software Engineering.
3. Foundations of the S3m® Process Model.
4. Process Management Domain.
5. Event/Request Management Domain.
6. Evolution Engineering Domain.
7. Support for the Evolution Engineering Domain.
8. Exemplary Practices-Process Management.
9. Exemplary Practices-Event/Request Management Domain.
10. Exemplary Practices-Evolution Engineering Domain.
11. Exemplary Practices-Support to Evolution Domain.
12. Assessment Process, Assessment Tool, and Case Studies of the Use of S3m®.
13. Summary.
Appendix A. Maintenance Standards Models and Enhancement Proposal.
Appendix B. Term Assignment for Students.
Appendix C. Acronyms and Glossary.
References.
Index.
About the Authors.
"The book is a fresh approach to an often otherwise dull and boring subject area." (Ubiquity, June 10-16, 2008)