Soil: Morphology, Genesis, and Classification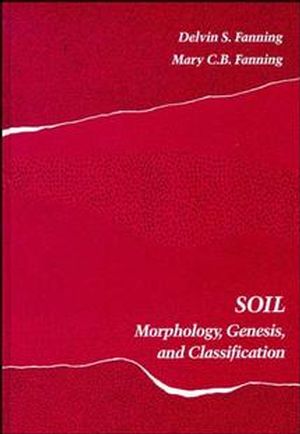 Soil: Morphology, Genesis, and Classification
ISBN: 978-0-471-89248-9
Mar 1989
416 pages
Description
An up-to-date, comprehensive text, covering--for the first time in one volume--what soils are, how they form and change under various conditions, and how they are classified. Presentation is modern, systematic, and accessible; it breaks down soil formation processes into fine and gross, describes effects of soil on human activities, and uses the most modern taxonomy throughout.
Concepts and Definitions of Soil.

Terminology and Relationships Between Segments of the Earth's Crust.

ABC System of Horizon Nomenclature.

Introduction to Ways of Thinking About and Studying Soil Genesis.

Mineral and Organic Matter Transformations.

Eluviation and Illuviation and Closely Related Processes (Diffusion, Wicking).

Phyto- and Other Biocycling.

Pedoturbation and Soil Structure Formation.

Erosion, Alluviation and Other Additions to Soils.

Sulfidization and Sulfuricization.

Salinization, Solonization, and Solodization.

Calcification.

Lessivage.

Podzolization.

Latasolization and Lateritization.

Gleization.

General Principles and Kinds of Soil Classification Systems.

Soil Classification in the Past--Roots and Philosophies.

History Leading to the Development of Soil Taxonomy.

Pedons and Polypedons and Their Relationship to Mapping Delineations.

Soil Taxonomy: Epipedons.

Diagnostic Subsurface Horizons.

Pans and Plinthite.

Proposed Special Diagnostic Characteristics for Highly Man-Influenced Soils.

Other Characteristics and Terms Used in Defining Mineral Soils and Classes of Them.

Diagnostic Criteria for Organic Soils.

General View of Division of Soils into Orders.

Entisols.

Vertisols.

Inceptisols.

Aridosols.

Mollisols.

Spodosols.

Alfisols.

Ultisols.

Oxisols.

Histosols.

The Factors of Soil Formation--Overview.

Soils in Relation to Their Parent Material.

Soils in Relation to Their Age.

Soils in Relation to Climate.

Soils in Relation to Organisms Other Than Man.

Effects of Man.

Soils in Relation to Topography.

Appendices.

Indices.