Soil Mechanics in Engineering Practice, 3rd Edition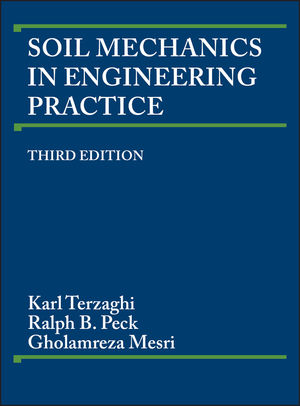 Soil Mechanics in Engineering Practice, 3rd Edition
ISBN: 978-0-471-08658-1 February 1996 592 Pages
Description
This book is one of the best-known and most respected books in geotechnical engineering. In its third edition, it presents both theoretical and practical knowledge of soil mechanics in engineering. It features expanded coverage of vibration problems, mechanics of drainage, passive earth pressure, and consolidation.
Table of contents
PHYSICAL PROPERTIES OF SOILS.

Index Properties of Soils.

Soil Exploration.

Hydraulic and Mechanical Properties of Soils.

THEORETICAL SOIL MECHANICS.

Hydraulics of Soils.

Plastic Equilibrium in Soils.

Settlement and Contact Pressure.

PROBLEMS OF DESIGN AND CONSTRUCTION.

Ground Improvement.

Earth Pressure and Stability of Slopes.

Foundations.

Settlement Due to Extraneous Causes.

Dams and Dam Foundations.

References.

Indexes.