Sol-Gel Commercialization and Applications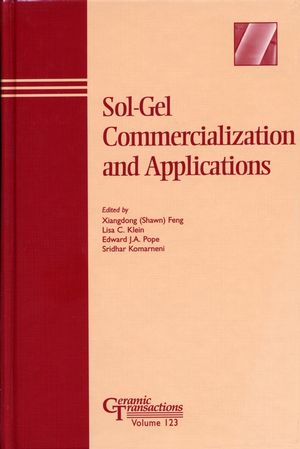 Sol-Gel Commercialization and Applications
ISBN: 978-1-574-98120-9
May 2001
140 pages
Description
This volume brings you the latest developments in thin and thick films, powders, composites and hybrids, and display applications of advanced ceramic materials. The unique focus of this collection of papers is its concentration on the commercialization of sol-gel processing.

Proceedings of the Symposium at the 102nd Annual Meeting of The American Ceramic Society, held May 1-2, 2000, in St. Louis, Missouri; Ceramic Transactions, Volume 123.
The Coming Golden Age of Sol-Gel Technology: Maximizing Value in the Age of Biotechnology and the Internet (E.J.A. Pope).
Functional Coatings as an Interesting Tool for Industrial Opportunities: Development and Commercialization  (H. Schmidt).

Sol-Gel Commercialization in Japan (S. Sakka).

Molecular Templated Sol-Gel Synthesis of Nanoporous Dielectric Films  (S. Baskaran, J. Liu, X. Li, G.E. Fryxell, N. Kohler, C.A. Coyle, J.C. Birnbaum and G. Dunahm).

Titanium Oxo-Organo Clusters: Precursors for the Preparation of Nanostructured Titanium Oxide Based Materials  (N. Steunou, C. Sanchez, P. Florian, S. Förster, C. Göltner and M. Antonietti).

Proton Conducting SiO2-P2O5-ZrO2 Sol-Gel Glasses  (M. Aparicio and L.C. Klein).

The Study of Hydrolysis and Condensation of Mixed Solution from Si(OC2H5)4 and Zr(O-nC3H7)4  (D.-Y. Shin, S.-H. Han, K.-N. Kim, W.-S. Kang and S.-K. Kang Patterned).
Microstructure of Sol-Gel Derived Complex Oxides Using Soft Lithography  (S. Seraji, Y. Wu, N. Jewell-Larson, M. Forbess, S. Limmer and G. Cao).

SrBi2(Nb,V)2O9 Ferroelectric Films  (Sol-Gel Processing by Y. Wu, S. Seraji, M.J. Forbess, S.J. Limmer ahd G.Z. Cao).

Flexible Sheets of Dimethysiloxane-Based Inorganic/Organic Hybrids (S. Katayama, K. Kawakami and N. Yamada).

Achievement of Crack-Free Ceramic Coatings over 1 ìm in Thickness via Single-Step Deposition (H. Kozuka, K. Katayama, Y. Isota and S. Takenaka).

Preparation and Characterization of Sr0.48Ba0.52Nb2O6 Ceramic Fibers Through Sol-Gel Processing (M. Toyoda and K. Shirono).

Sol-Gel Processing for the Lanthanides (J.L. Woodhead).

Sol-Gel Derived Nickel Titanate for Tiobological Coatings (D.J. Taylor, P.F. Fleig and R.A. Page).

Synthesis of Wood-(SiO2,Al2O3) Inorganic Composites by Sol-Gel Process (X. Wang, S. Shi, H. Hou, P. Shi and L. Sun).

Real-Time Monitoring of Striation Development during Spin-on-Glass Deposition (D.E. Haas and D.P. Birnie III).