Sol-Gel Synthesis and Processing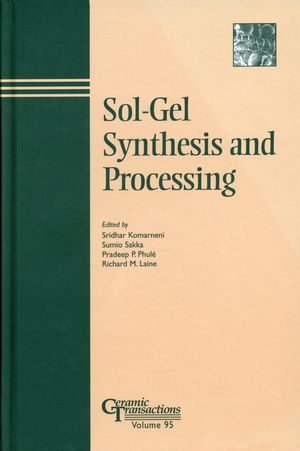 Sol-Gel Synthesis and Processing
ISBN: 978-1-574-98063-9 February 1998 265 Pages
Description
Discusses recent technological applications and advances in sol-gel processing of various ceramics, gels and glasses. Also features historical aspects from the initial discovery of the development of sol-gel processing for ceramics 50 years ago.
HISTORICAL ASPECTS OF SOL-GEL PROCESSING.

The Sol-Gel Process in Ceramic Science: Early History of Discovery and Subsequent Development (R. Roy).

History of Sol-Gel Technology in Japan (S. Sakka).

Sol-Gel Derived Nanoparticles and Processing Routes to Ceramics and Composites (H. Schmidt, C. Kropf, T. Schiestel, H. Schirra, S. Sepeur and C. Lesniak).

Sol-Gel Process for Optical Fiber Manufacture (J. MacChesney, D.W. Johnson Jr., S. Bhandarkar, M. Bohrer, J.W. Fleming, E.M. Monberg and D.J. Trevor).

Historical Development of Abrasive Grain (D.D. Erickson, T.E. Wood and W.P. Wood).


ELECTROCERAMIC FILMS BY SOL-GEL PROCESS.

Low-Temperature Processing of Sol-Gel Derived Pb(Zr1-xTix)O3 Thin Films (Y.J. Song, S. Tirumala and S.B. Desu).

Triol Sol-Gel Route for Preparing PZT Thin Films (S.J. Milne, R. Kurchania, J.D. Kennedy, M. Naksata, S. Arscott, D. Kaewchinda, N. Sriprang and R.E. Miles).

Phase Transformations and Orientation Development in MMAP Derived PZT (40/60) Thin Films (P.P. Phulé and Y. Liu).

Preparation of PZT Thin Films on Hastelloy Substrate Using Sol-Gel Processing (W. Yu, B.A. Chin and Z. Chen).

Synthesis and Characterization of Wet-Chemically Derived Strontium Bismuth Tantalate (SBT) Thin Films (J.T. Dawley, R. Radspinner, B.J.J. Zelinski, D.B. Hilliard, K.A. Jackson, G. Teowee, D.R. Uhlmann, P.Y. Chu, B.M. Melnick and R.E. Jones Jr.).

The Role of Process Variables on Microstructural Development in Sol-Gel Derived SBN Thin Films (A.Y. Oral and M.L. Mecartney).


POROUS MATERIALS THROUGH SOL-GEL PROCESSING.

Monolithic HPLC Column via Sol-Gel Route (K. Nakanishi, H. Minakuchi, N. Ishizuka, N. Soga and N. Tanaka).

Transplantation Therapies (E.J.A. Pope).

Ultralight Ceramic Foams (G.S. Grader, Y. de Hazan and G.E. Shter).

Fabrication and Characterization of Sol-Gel Monoliths with Large Mesopores (K.W. Powers and L.L. Hench).

Structure of Sono-Aerogels Prepared by a Nonaqueous Method (L. Esquivias, A. González-Pecci, J. Rodríguez-Ortega, C. Barrera-Solano and N. de la Rosa-Fox).


BASIC AND APPLIED SOL-GEL SCIENCE AND PROCESSING OF CERAMICS AND COMPOSITES.

The Pentacoordinate Species in Fluoride Catalysis of Silica Gels (K.W. Powers and L.L. Hench)

The Sol-Gel Processing of Hydrolysates Derived from Carboxylic Acid-Modified Titanium Isopropoxide (P.A. Venz, J.L. Woolfrey, J.R. Bartlett, D.J. Cassidy and R.L. Frost).

Synthesis of Magnesia Powders from an Alkoxide Precursor (M. Menon, J.L. Warren and J.W. Bullard).

Sol-Gel Synthesis, Sintering and Electrical Properties of NaSiCON Having New Compositions, Na3Zr2-(x/4)Si2-xP1+xO12 (E. Traversa, L. Montanaro, H. Aono and Y.
Sadaoka)

Patterning of Inorganic-Organic Hybrid Films Using Chemically Modified Metal Alkoxide (N. Yamada, I. Yoshinaga and S. Katayama).

Tailoring of the Nano/Microstructure of Heterogeneous Ceramics (Sol-Gel Routes by P. Colomban).

Microstructural Evolution on Sintering in Y2O3-Doped ZrO2 System (N. de la Rosa-Fox, M. Piñero, A. Santos, C. Jímenez-Solís, C. Barrera-Solano, L. Esquivias and E. Hoinkis).