Solar Power Your Home For Dummies, 2nd Edition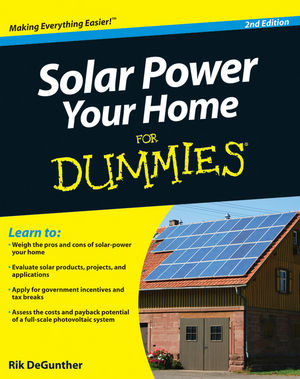 Solar Power Your Home For Dummies, 2nd Edition
ISBN: 978-0-470-87365-6 March 2010 416 Pages
Description
The bestselling alternative energy reference book in North America—now in an updated edition
Want to take advantage of solar power in your home? Whether you're looking to save on your energy costs by adding a few solar components or you want to build a solar-powered house from the ground up, Solar Power For Dummies, 2nd Edition takes the mystery out of this energy source and shows you how to put it to work for you!
This new edition gives you hands-on tips and techniques for making your home more energy-efficient though solar power—and helping the planet at the same time. Plus, you'll get all the latest information on changes to federal, state, and local regulations, laws, and tax incentives that seek to make solar-power adoption more feasible.
Expanded coverage of the technology that underpins full-scale solar-power systems for the home
New small- and mid-sized solar products, projects, and applications
Rik DeGunther is a design engineer who started his own energy consulting firm
Featuring ten of the easiest and cheapest DIY solar projects, Solar Power For Dummies, 2nd Edition is the fun and easy way to meet your energy needs with this clean power source!
Introduction.
Part I: Playing the Energy Game.
Chapter 1: Helping the World through Solar Power.
Chapter 2: Surveying Your Household Energy Efficiency and Use.
Chapter 3: Making Your Home Energy Efficient.
Part II: Understanding Solar — Just the Facts, Ma'am.
Chapter 4: Working with Solar Basics.
Chapter 5: Evaluating Your Solar Potential.
Chapter 6: Calculating Payback on Your Solar Investment.
Chapter 7: Installing Your Solar System.
Part III: Applications Aplenty: Projects from Small to Large.
Chapter 8: Digging In to Landscape Projects.
Chapter 9: Jumping In to Small Projects with Big Results.
Chapter 10: Heating and Purifying Water.
Chapter 11: Diving In to Swimming Pool Projects.
Chapter 12: Supplementing Your Domestic Water Heater.
Chapter 13: Breezeway: Directing Wind within Your House.
Chapter 14: Solar Pumps, Wind Power, Hydro Power, and Batteries in Applications.
Chapter 15: Glass Houses (and Plastic, Too): Greenhouses and Sunrooms.
Part IV: Exploring Full-Scale Photovoltaic Systems.
Chapter 16: Taking a Close Look at Photovoltaic Systems.
Chapter 17: Is a Full-Scale PV System Worth the Investment?
Chapter 18: Divorcing the Grid: Going Solo with Solar Power Systems.
Chapter 19: Do It Yourself or Contract Out?
Chapter 20: Finding the Cash to Get the Job Done.
Part V: Buying, Selling, and Building a Solar Home.
Chapter 21: Building a Solar Home from the Ground Up.
Chapter 22: Buying and Selling a Solar Home.
Part VI: The Part of Tens.
Chapter 23: Ten Best Solar Investments.
Chapter 24: Ten or So Best Do-It-Yourself Projects.
Chapter 25: Ten Cheap Solar Projects and Devices.
Chapter 26: Ten or So Worst Solar Mistakes.
Index.