Solaris 9 For Dummies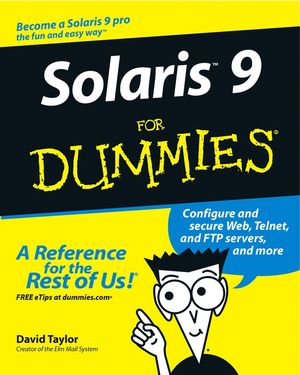 Description
Discover new security features and easier installation
Light up your system with a new resource manager, volume manager, and directory server
In the dark about Solaris 9? Open this book and let the sun shine in! It'll help you chart a course for StarOffice, explore CDE and GNOME desktops, and harness Solaris power to configure Web servers, access Internet services, build great Web sites, manage files and directories, and a galaxy of other tasks.
The Dummies Way
Explanations in plain English
"Get in, get out" information
Icons and other navigational aids
Tear-out cheat sheet
Top ten lists
A dash of humor and fun
Foreword.
Introduction.
Part I: Getting Aquainted with Solaris.
Chapter 1: Logging In and Poking Around.
Chapter 2: Graphical Window Managers.
Chapter 3: Interacting with the Shell.
Chapter 4: Managing Files and Directories.
Part II: The Inevitable Internet Section.
Chapter 5: Doin' That E-Mail Thing.
Chapter 6: Exploring the World Wide Web.
Chapter 7: Creating Web Pages.
Chapter 8: Accessing Internet Services.
Part III: Becoming Productive with StarOffice.
Chapter 9: Composing Documents with Writer.
Chapter 10: The Rest of StarOffice.
Part IV: Editing and Controlling Programs.
Chapter 11: Exploring Text Files.
Chapter 12: Editing Files.
Chapter 13: Controlling Processes.
Chapter 14: Finding Files.
Part V: Administration and Security Issues.
Chapter 15: Connecting to the Network.
Chapter 16: Essential System Administration.
Chapter 17: Keeping Your System Secure.
Part VI: The Part of Tens.
Chapter 18: Ten Best Web Sites.
Chapter 19: Ten Key Security Features.
Chapter 20: Ten Great Free Add-Ons.
Index.
Chapter
Page
Details
Date
Print Run
289
Error in step six
Step six on this page says you should modify S30network.sh but in fact you should be modifying the file S72inetsvc in this step.

---