Solid-Phase Synthesis and Combinatorial Technologies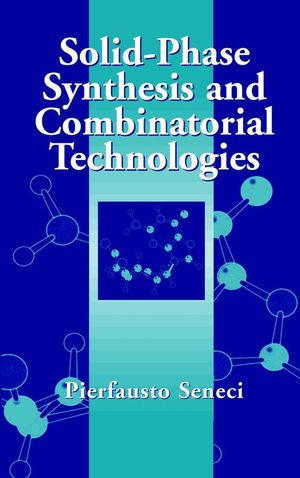 Solid-Phase Synthesis and Combinatorial Technologies
ISBN: 978-0-471-46073-2
May 2003
656 pages
Description
A unique, integrated look at solid-phase synthesis and advances in combinatorial chemistry and technologies
The last decade has seen a rapid expansion in combinatorial technologies, a field where chemistry disciplines intersect with automation, statistics, and information science, as well as certain biological disciplines. Reflecting these multidisciplinary trends, this new work provides a comprehensive overview of the most important aspects of solid-phase synthesis (SPS), combinatorial chemistry, and related combinatorial technologies. It clearly demonstrates how SPS and combinatorial chemistry have extended their application from the pharmaceutical arena to new areas, including biotechnology, material sciences, catalysis, and agrochemical industries, and explores in detail strategies for planning, designing, preparing, and testing of combinatorial libraries in various disciplines. Designed to meet the needs of both experienced combinatorial chemists and newcomers to the field, Solid-Phase Synthesis and Combinatorial Technologies:
Surveys the most recent developments in SPS and combinatorial chemistry
Explains the entire process, from determining the need for a library to the details necessary for synthesis of the library
Discusses choice of format, size, and the rationale behind the design of each synthetic step
Surveys the analytical techniques and the purification methods used to characterize and purify combinatorial libraries
Employs a large number of examples to illustrate important concepts
Includes problems geared toward applying acquired knowledge and designing the steps to SPS/library synthesis
Describes the quality control and activity screening of combinatorial libraries for various applications
Features a detailed bibliography of more than 1,700 relevant sources
Solid-Phase Synthesis: Basic Principles.

Solid-Phase Synthesis: Oligomeric Molecules.

Solid-Phase Synthesis: Small Organic Molecules.

Combinatorial Technologies: Basic Principles.

Synthetic Organic Libraries: Library Design and Properties.

Synthetic Organic Libraries: Solid-Phase Discrete Libraries.

Synthetic Organic Libraries: Solid-Phase Pool Libraries.

Synthetic Organic Libraries: Solution-Phase Libraries.

Applications of Synthetic Libraries.

Biosynthetic Combinatorial Libraries.

Materials and Polymeric Combinatorial Libraries.

Index.
""For both experienced combinatorial chemists and newcomers ...Seneci...provides an overview of recent developments in the realm where chemistry intersects with automation, statistics, information science, and certain biological disciplines."" (SciTech Book News, Vol. 25, No. 2, June 2001)

""...[a] comprehensive review of the whole combinatorial area"" (Chemistry in Britain, January 2001)

""...a welcome addition to the rapidly developing field of combinatorial synthetic chemistry..."" (Pharmaceutical Research, Vol. 18, No. 9, September 2001)