SolidWorks 2009 Bible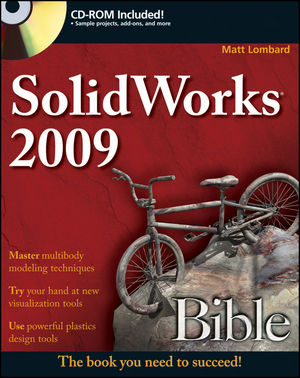 SolidWorks 2009 Bible
ISBN: 978-0-470-48048-9
Feb 2009
1200 pages
Product not available for purchase
Description
SolidWorks Bible is a comprehensive reference-tutorial that covers the basics, but then quickly ramps up to more advanced level topics. Every feature is thoroughly covered yet written in a way that makes learning this robust program seem non-threatening and uncomplicated. In a market full of books for beginners this is the one book that goes into extensive detail, not just on ""how"" the software works, but in many cases ""why"" it works the way it does. The author is well known in the SolidWorks community and uses SolidWorks on a daily basis as his main design tool in his contracting and consulting work. Many topics covered in SolidWorks Bible are not found in any other publication or even documentation directly from SolidWorks.

Note: CD-ROM/DVD and other supplementary materials are not included as part of eBook file. 
Acknowledgments.
Introduction.
Part I: SolidWorks Basics.
Chapter 1: Introducing SolidWorks.
Chapter 2: Navigating the SolidWorks Interface.
Chapter 3: Working with Sketches.
Chapter 4: Creating Simple Parts, Assemblies, and Drawings.
Chapter 5: Using Visualization Techniques.
Part II: Building Intelligence into Your Parts.
Chapter 6: Getting More from Your Sketches.
Chapter 7: Selecting Features.
Chapter 8: Patterning and Mirroring.
Chapter 9: Using Equations.
Chapter 10: Working with Part Configurations.
Chapter 11: Editing and Evaluation.
Part III: Working with Assemblies.
Chapter 12: Building Efficient Assemblies.
Chapter 13: Getting More from Mates.
Chapter 14: Assembly Configurations and Display States.
Chapter 15: Component Patterns.
Chapter 16: Modeling in Context.
Part IV: Creating and Using Libraries.
Chapter 17: Using Hole Wizard and Toolbox.
Chapter 18: Working with Library Features.
Chapter 19: Using Smart Components.
Part V: Creating Drawings.
Chapter 20: Automating Drawings: The Basics.
Chapter 21: Working with Drawing Views.
Chapter 22: Using Annotations and Symbols.
Chapter 23: Dimensioning and Tolerancing.
Chapter 24: Working with Tables and Drawings.
Chapter 25: Using Layers, Line Fonts, and Colors.
Part VI: Using Advanced Techniques.
Chapter 26: Modeling Multi-bodies.
Chapter 27: Working with Surfaces.
Chapter 28: Master Model Techniques.
Part VII: Working with Specialized Functionality.
Chapter 29: Using the Base Flange Method for Sheet Metal Parts.
Chapter 30: Using the Insert Bends Method for Sheet Metal Parts.
Chapter 31: Using Weldments.
Chapter 32: Using Plastic Features and Mold Tools.
Chapter 33: Animating with MotionManager.
Part VIII: Appendixes.
Appendix A: Implementing SolidWorks.
Appendix B: Tools, Options.
Appendix C: What's on the CD-ROM.
Index.