SolidWorks 2010 Bible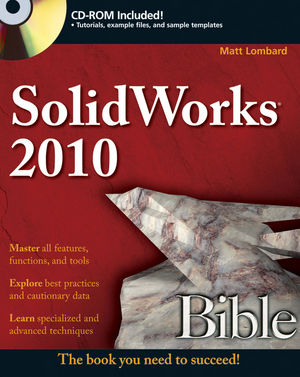 SolidWorks 2010 Bible
ISBN: 978-0-470-63596-4
Mar 2010
1176 pages
Product not available for purchase
Description
The only guide you need to learn the leading 3D solid modeler program, SolidWorks.
This in-depth guide goes into extensive detail, not just on "how" the software works, but in many cases "why" it works the way it does.
SolidWorks is a powerful 3D solid modeling system that is popular with CAD users everywhere, but to become really proficient at the more involved functionality in SolidWorks one really needs specialized training or a comprehensive book like the SolidWorks Bible
Thoroughly covers SolidWork features using real-world examples
Author, Matt Lombard, is well known and well respected in the SolidWorks community and host a popular SolidWorks blog called dezignstuff
Get the guidance you need to efficiently learn and master SolidWorks.
Note: CD-ROM/DVD and other supplementary materials are not included as part of eBook file.
Acknowledgments.
Part I: SolidWorks Basics.
Chapter 1: Introducing SolidWorks.
Chapter 2: Navigating the SolidWorks Interface.
Chapter 3: Working with Sketches.
Chapter 4: Creating Simple Parts, Assemblies, and Drawings.
Chapter 5: Using Visualization Techniques.
Part II: Building Intelligence into Your Parts.
Chapter 6: Getting More from Your Sketches.
Chapter 7: Selecting Features.
Chapter 8: Patterning and Mirroring.
Chapter 9: Using Equations.
Chapter 10: Working with Part Configurations.
Chapter 11: Editing and Evaluation.
Part III: Working with Assemblies.
Chapter 12: Building Efficient Assemblies.
Chapter 13: Getting More from Mates.
Chapter 14: Controlling Assembly Configurations and Display States.
Chapter 15: Using Component Patterns and Mirrors.
Chapter 16: Modeling in Context.
Part IV: Creating and Using Libraries.
Chapter 17: Using Hole Wizard and Toolbox.
Chapter 18: Working with Library Features.
Chapter 19: Using Smart Components.
Part V: Creating Drawings.
Chapter 20: Automating Drawings: The Basics.
Chapter 21: Working with Drawing Views.
Chapter 22: Using Annotations and Symbols.
Chapter 23: Dimensioning and Tolerancing.
Chapter 24: Working with Tables and Drawings.
Chapter 25: Using Layers, Line Fonts, and Colors.
Part VI: Using Advanced Techniques.
Chapter 26: Modeling Multi-bodies.
Chapter 27: Working with Surfaces.
Chapter 28: Employing Master Model Techniques.
Part VII: Working with Specialized Functionality.
Chapter 29: Using SolidWorks Sheet Metal Tools.
Chapter 30: Using Imported Geometry and Direct Editing Techniques.
Chapter 31: Using Weldments.
Chapter 32: Using Plastic Features and Mold Tools.
Chapter 33: Animating with MotionManager.
Part VIII: Appendixes.
Appendix A: Finding Help.
Appendix B: What's on the CD-ROM.
Index.