SolidWorks Administration Bible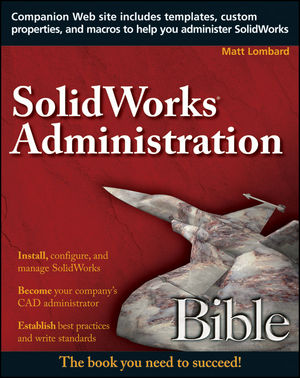 SolidWorks Administration Bible
ISBN: 978-1-118-25776-0 October 2011 569 Pages
Description
What you need to prepare, install, and maintain SolidWorks
It's not enough to know how to use SolidWorks, if your job also requires you to install or maintain it, train new users, and implement standards. This in-depth guide was written for those of you who have to actually manage your company's SolidWorks system. From hardware selection to helping users to licensing and more, this is the everyday, bread-and-butter SolidWorks administration resource that IT and CAD managers have been seeking.
SolidWorks is a powerful 3D solid modeling system that is popular with CAD users everywhere, but often leaves IT administrators in the dark as to how to manage it; this essential guide covers SolidWorks admin for both IT staff and CAD users
Walks you through preparing, installing, and maintaining SolidWorks
Covers setting up shared libraries, automated deployment tools, licensing, updates and upgrades, support and troubleshooting, standardization, and collaboration
Get the high-level assistance you need to efficiently manage SolidWorks in your enterprise or small business.
Note: CD-ROM/DVD and other supplementary materials are not included as part of eBook file.
Table of contents
Acknowledgments.
Introduction.
Part I: Preparing for SolidWorks.
Chapter 1: Defining CAD Administration.
Chapter 2: Preparing Information Technology.
Chapter 3: Preparing Document Management.
Chapter 4: Operating System Tools You Need to Know.
Chapter 5: Training Users.
Part II: Installing SolidWorks.
Chapter 6: Installing the Software.
Chapter 7: Licensing.
Chapter 8: Standardizing Settings.
Chapter 9: Maximizing Your Use of Templates.
Chapter 10: Implementing Toolbox.
Chapter 11: Establishing Libraries.
Part III: Maintaining SolidWorks.
Chapter 12: Writing a SolidWorks Standard.
Chapter 13: Using Custom Properties.
Chapter 14: Establishing Best Practice Rules.
Chapter 15: Automating Tasks with the API.
Chapter 16: Supporting SolidWorks Users.
Chapter 17: Collaboration.
Chapter 18: Managing Change.
Chapter 19: Rolling out New Service Packs.
Chapter 20: Rolling out New Versions.
Part IV: SolidWorks Workgroup PDM.
Chapter 21: Introducing SolidWorks Workgroup PDM.
Chapter 22: Installing and Configuring the Vault.
Chapter 23: Establishing Permissions and Managing Toolbox.
Chapter 24: Establishing Client Best Practice.
Part V: Appendixes.
Appendix A: Online Help Resources.
Appendix B: Sources for Standards.
Appendix C: Tools, Options Menu Settings.
Index.