SolidWorks Surfacing and Complex Shape Modeling Bible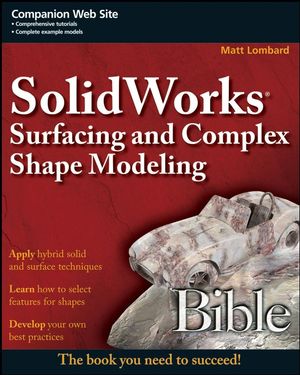 SolidWorks Surfacing and Complex Shape Modeling Bible
ISBN: 978-1-118-07897-6 June 2011 460 Pages
Description
If you want to gain proficiency and expertise with SolidWorks surface modeling, this is the resource for you. You'll learn how to apply concepts, utilize tools, and combine techniques and strategies in hands-on tutorials. This Bible covers the range from sketching splines and shelling to modeling blends and decorative features. Complete with professional tips and real-world examples, this inclusive guide enables you to coax more out of SolidWorks surfacing tools.
Preface.
Acknowledgments.
Part I: Laying the Groundwork.
Chapter 1: Understanding Basic Concepts.
Chapter 2: Surfacing Primer.
Part II: Understanding the Tools.
Chapter 3: Sketching with Splines.
Chapter 4: Sketching in 3D.
Chapter 5: Creating Curves.
Chapter 6: Using the Primary Shape Creation Features.
Chapter 7: Using Advanced Fillets.
Chapter 8: Shelling.
Part III: Using Secondary, Management, and Evaluation Tools.
Chapter 9: Using Secondary Shape Creation Features.
Chapter 10: Working with Hybrid Features.
Chapter 11: Managing Surfaces.
Chapter 12: Using Direct Editing Tools.
Chapter 13: Managing Bodies.
Chapter 14: Evaluating Geometry.
Part IV: Using Specialized Techniques.
Chapter 15: Modeling a Ladle.
Chapter 16: Modeling a Trowel .
Chapter 17: Modeling Blends.
Chapter 18: Modeling a Plastic Bottle.
Chapter 19: Modeling Decorative Features.
Chapter 20: Modeling Overmolded Geometry.
Chapter 21: Working from Digitized Data.
Chapter 22: Using Master Model Techniques.
Chapter 23: Post-Processing Data.
Index.