Solidification Processes and Microstructures: A Symposium in Honor of Wilfried Kurz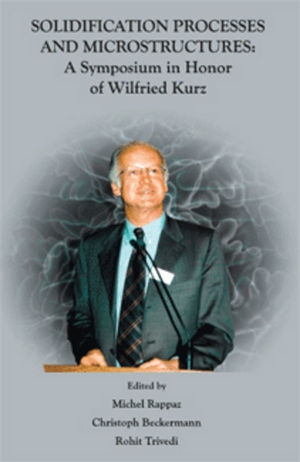 Solidification Processes and Microstructures: A Symposium in Honor of Wilfried Kurz
ISBN: 978-0-873-39572-4
Mar 2004
436 pages
Description
This book contains papers on topics that range from experimental and theoretical investigations of microstructural aspects to processes such as continuous casting of steel and aluminum, directional solidification, single-crystal growth, laser-surface treatment, laser welding, and laser-metal forming. A valuable reference that reports the state-of-the-art in the field of solidification, this book will appeal to both engineers in solidification research and those in the metal-casting industry.

From 2004 TMS Annual Meeting to be held in Charlotte, North Carolina, March 14-18, 2004.
Preface.
PROCESSES.
Semi-Solid Forming: Our Understanding Today and Its Implications for Improved Processes (M.C. Flemings, J. Yurko and R. Martinez).
Contributions to the Understanding of the Formation of the Skin DuringContinuous Casting of Steel (G. Lesoult, J.-M. Jolivet, L. Ladeuille and Ch.-A. Gandin).
Introducing Casting Simulation in Industry: The Steps Towards Success (M. Gremaud and M. Gäumann).
Simulation of Shrinkage and Stress in Solidifying Steel Shells of Different Grades (Y. Meng, C. Li, J. Parkman and B.G. Thomas).
A 3D-FEM Model Solving Thermomechanics and Macrosegregation in Binary Alloys Solidification (M. Bellet, V.D. Fachinotti, S. Gouttebroze, W. Liu and H. Combe).
Effect of Casting Speed on Structure Formation and Hot Tearing During Direct-Chill Casting of Al-Cu Alloys (Suyitno, D. Eskin and L. Katgerman).
Simulation of Solidification and Precipitation in Continuous Casting of Micro Alloyed Steels (M. Safi, H. Hamadou and D. Senk).
Stray Grain Formation in Nickel-Base Superalloy Single-Crystal Welds (J.M. Vitek, S.S. Babu, J.-W. Park and S.A. David).
Microstructure Control During Single Crystal Laser Welding and Deposition of Ni-Base Superalloys (S. Mokadem, C. Bezençon, J.-M. Drezet, A. Jacot, J.-D. Wagnière and W. Kurz).
Microstructure and Mechanical Behavior of Liquid Metal Cooled Directionally Solidified GTD-444 (S. Balsone, G. Feng, L. Peterson and J. Schaeffer).
MUSHY ZONE DYNAMICS.
Rapid Melting of Nb-47 Mass % Ti: Effect of Heating Rate and Grain Size (W.J. Boettinger, D. Josell, S.R. Coriell and D. Basak).
On the Interaction Between Macrosegregation, Shrinkage Flow andGrain Movement (A. Ludwig and M. Wu).
Direct Observation of Pore Formation and Bubble Mobility During Controlled Melting and Re-Solidification in Microgravity (R.N. Grugel, A.V. Anilkumar and C.P. Lee).
Kinetics of Dendritic Mushy Zones: Microgravity Experiments (A. Lupulescu, M.E. Glicksman and M.B. Koss).
The Topology of Coarsened Microstructures (R. Mendoza, J. Alkemper and P.W. Vorhees).
Coherency, Hot Cracking and Wilfried Kurz (J.A. Sekhar).
Direct Visualization of Phenomena Related to Steel Casting and Solidification (S. Sridhar and A.W. Cramb).
A Micro-Segregation Model (V.R. Voller).
Network Modeling of Liquid Metal Transport in Solidifying Aluminum Alloys (W.O. Dijkstra, C. Vuik, A.J. Dammers and L. Katgerman).
Modeling of Macrosegregation and Solidification Grain Structures with a Coupled Cellular Automaton - Finite Element Model (G. Guillemot, Ch.-A. Gandin and H. Combeau).
A Mushy-Zone Rayleigh Number to Describe Interdendritic Convection During Directional Solidification of Hypoeutectic Pb-Sb and Pb-Sn Alloys (S.N. Tewari, R. Tiwari and G. Magadi).
Dynamics of Particle-Solidification Front Interactions (J.W. Garvin, Y. Yang and H.S. Udaykumar).
MICROSTRUCTURES.
Dendritic Scaling Laws: Application to Microstructure Prediction (M.E. Glicksman, A. Lupulescu and M.B. Koss).
Selection of Eutectic Carbides in Multi-Component High Speed Steel Type Cast Irons (T. Okane and T. Umeda).
Extending the Lipton-Kurz-Trivedi Dendrite Growth Model Into the Two-Phase Regime (D.M. Matson, J.K. Yurko and R.W. Hyers).
The Effect of Dimensionality on Microstructures in Directionally Solidified SCN-Salol Alloys (S. Liu, M.-J. Suk, L. Fabietti and R. Trivedi).
Characteristic Substructure in Directionally Solidified Dilute Al-Cu Alloys (O. Fornaro, H.A. Palacio and H. Biloni).
Effect of Lead and Antimony on the Grain Structure of Directionally Solidified Zn-Al Alloys (M. Rappaz, A. Quiroga and A. Sémoroz).
The Peritectic Reaction in Fe-Co Alloys (N.J. McDonald and S. Sridhar).
On Anisotropy Effects in Lamellar Eutectic Growth (G. Faivre).
Growth Mechanisms in Low-Velocity Al-Si Eutectics (R.E. Napolitano, C. Jung and H. Meco).
3D Observation of Eutectic Structure of Al2O3-YAG System (H. Yasuda, I. Ohnaka, A. Sugiyama, Y. Mizutani, Y. Waku, A. Tsuchiyama, T. Nakano and K. Uesugi).
Lamellar/Rod Transition in Al-Cu Alloys (S. Liu, J.-H. Lee, D. Enlow and R. Trivedi).
Phase Selection in Unidirectional Growth of Sn-Ag3Sn Eutectic Alloy (H. Esaka, K. Shinozuka and M. Tamura).
Formation and Effects of Al2Si2Ce Type Phase in Hypereutectic Al-Si AlloyCastings Containing Additions of Phosphide Inoculant and Rare Earths (W. Jirattiticharoean, S.C. Hogg, C.A. Kirk and H. Jones).
RAPID SOLIDIFICATION.
Free Dendrite Growth in Undercooled Melts: Experiments and Modeling (D.M. Herlach, O. Funke, P. Gandham and P. Galenko).
Tests of Theories for Nonplanar Growth During Rapid Alloy Solidification (M.J. Aziz).
Phase Selection Transitions During Undercooled Melt Solidificaiton (J.H. Perepezko).
Microstructural Scaling Relationships in Cellular Patterns (R. Trivedi, S. Liu, B. Echebarria and A. Karma).
Diffuse Solid-Liquid Interfaces and Solute Trapping (R. Abbaschian and W. Kurz).
Glass Forming Ability and Type of Eutectic Coupled Zone (H. Tan, Y. Zhang, D. Ma and Y. Li).
Optimum Stability in Rapidly Solidified Nickel-Based Alloys (P.R. Algoso, W.H. Hofmeister and R.J. Bayuzick).
Nonequilibrium Phase Selection During Weld Solidification of Fe-C-Mn-Al Steels (S.S. Babu, J.M. Vitek, J.W. Elmer, T.A. Palmer and S.A. David).
Femtosecond Laser Micromachining of Single-Crystal Superalloys (absract only) (Q. Feng, Y.N. Picard, H. Liu, S.M. Yalisove, G. Mourou and T.M. Pollock).
Microstructure Selection During Rapid Solidification of Al-Si Powder (A. Geneau, I.E. Anderson and R. Trivedi).
PHASE FIELD MODELING.
Fractal Solidification Patterns (abstract only) (H. Mueller-Krumbhaar).
Dendritic Growth in Confined Spaces (B.P. Athreya and J.A. Dantzig).
Globular-Dendritic Transition in Equiaxed Alloy Solidification (H.-J. Diepers and A. Karma).
Examination of Binary Alloy Free Dendritic Growth Theories with a Phase-Field Model (J.C. Ramirez and C. Beckermann).
The Influence of Foreign Particles in the Formation of Polycrystalline Solidification Patterns (J.A. Warren, L. Gránásy, T. Pusztai, T. Börzsönyi, G. Tegze and J.F. Douglas).
Three-Dimensional Phase-Field Simulations of Directional Solidification (M. Dejmek, R. Folch, A. Parisi and M. Plapp).
Experimental Observation and Phase-Field Modeling of Interface Morphological Transition in Unidirectional Solidification (T.-M. Guo, H.-J. Xu, T. Kyu and G.-X. Wang).
Phase Field Modeling of Step Flow with Dendritic Patterns (abstract only) (S.G. Kim and W.T. Kim).
Phase-Field Modeling of Faceted Dendritic Growth (abstract only) (S.G. Kim and W.T. Kim).
A 2-Dimensional Model Coupled to a Thermodynamic Database for the Prediction of Solidification Microstructures in Multi-Component Alloys (A. Jacot and Q. Du).
A Cellular Automaton for Growth of Solutal Dendrites:Factors Influencing Grid Dependent Orientation (S. Raghavan, M.J.M. Krane and D.R. Johnson).
Author Index.
Subject Index.