Solving Discipline and Classroom Management Problems, 7th Edition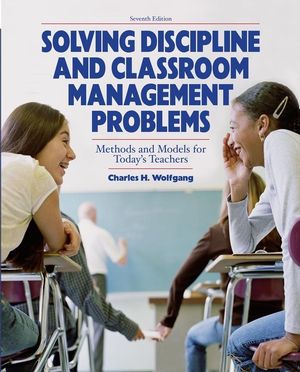 Solving Discipline and Classroom Management Problems, 7th Edition
ISBN: 978-0-470-47524-9 October 2008 400 Pages
Table of contents
Chapter 1. Discipline, Management and Teacher Power.
Chapter 2. Behavior Analysis Model.
Chapter 3. Behavior Education Program (BEP) and Response to Intervention (RTI).
Chapter 4. Tools for Teaching: Discipline, Instruction, and Motivation.
Chapter 5. Assertive Discipline.
Chapter 6. Linda Albert's Cooperative Discipline and the Dreikurs/Adlerian.
Chapter 7. Glasser's Reality Therapy, Control Theory, and the Quality School.
Chapter 8. Love and Logic (including Glasser).
Chapter 9. Discipline with Dignity (Curwin/Mendler).
Chapter 10. Teacher Effectiveness Training Model - T.E.T.
Chapter 11. Designing Your Own Model of Discipline.
Chapter 12. The Peer Mediation Model.
Chapter 13. The Judicious Discipline Model (moral/ethical considerations).
Chapter 14. Skillstreaming-Teaching Prosocial Skills.
Chapter 15. Bullying Prevention in Schools and Classrooms.
Chapter 16. Managing Student Violent Assaults and Breaking Up Student Fights.
Chapter 17. Classroom Management: As a Discipline Preventive Process.
Chapter 18. Classroom Management: The Diversity Learner (cultural and economic).
Appendix. Classroom Discipline Situations.
Glossary.
Features
Explains the strengths and limitations of each model

Offers a 15-point test at the end of each chapter to reinforce concepts.

Includes an "Honorable Mention" feature that describes other discipline models.

Examines the Teacher Behavior Continuum construct

Discusses bullying, prevention, violent assaults and student fights, diversity and more

Thoroughly updated with increased coverage of technology, rural schools, LGBT issues and more.