Sonar for Practising Engineers, 3rd Edition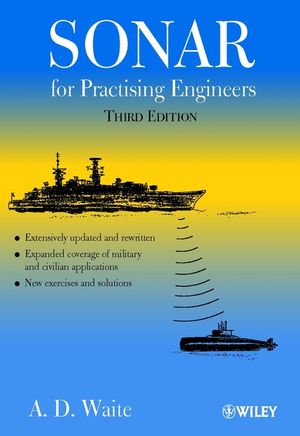 Sonar for Practising Engineers, 3rd Edition
ISBN: 978-0-471-49750-9 May 2002 324 Pages
Description
The first book exclusively on sonar and sonar technology. Written by an engineer (with over 40 years of experience in the field) for engineers. Taking an engineering approach rather than a physics/math one it provides an understanding of the basic principles of sonar and develops the formulae and "rules of thumb" for sonar design and performance analysis.
Table of contents
Preface.

About the Author.

Introduction.

Sound.

Arrays.

Propagation of Sound in the Sea.

Target Strength.

Noise in Sonar Systems.

Reverberation.

The Sonar Equations.

Passive Sonar.

Active Sonar.

Echo Sounding and Side Scan Sonars.

Mine Hunting Sonars.

Intercept and Communications Sonars.

Active Sonar Design.

Conclusion.

Solutions to Problems.

Index.
Features
Provides information on the following:
Arrays and Directivity.
Sources of Noise in Sonar Systems.
Intercept and Communications Sonars.
Detection and Classifications: A Unified Process.