Sony Alpha DSLR-A200 Digital Field Guide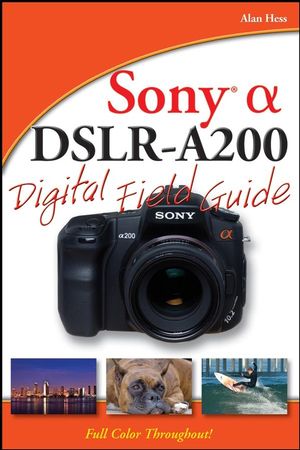 Sony Alpha DSLR-A200 Digital Field Guide
ISBN: 978-0-470-45138-0
May 2011
288 pages
Product not available for purchase
Description
Digital SLRs can be both exciting and intimidating. Focus on the fun with this portable guide! Clear explanations show you how to use every setting on your Sony DSLR-A200 and make the most of the 10.2 megapixel CCD image sensor, Super SteadyShot image stabilization, dynamic range optimization, and other top-of-the-line features. Refresh your knowledge of photography basics like composition, shutter speed, aperture, and lighting; explore creative suggestions and advice for photographing kids, concerts, wildlife, even online auction items; and learn the best ways to download, view, and print your photos.
Introduction.
Part I: Using the Sony Alpha DSLR-A200.
Chapter 1: Exploring the Sony Alpha DSLR-A200.
Chapter 2: Setting Up the Sony Alpha DSLR-A200.
Part II: Creating Great Photos with the Sony Alpha DSLR-A200.
Chapter 3: Photography Essentials.
Chapter 4: All About Light.
Chapter 5: All About Lenses.
Chapter 6: Photo Subjects.
Chapter 7: Viewing, Downloading, and Printing Your Photos.
Part III: Appendixes.
Appendix A: Camera Care.
Appendix B: Editing Software Options.
Appendix C: Photography Resources.
Glossary.
Index.