South Africa in the Twentieth Century: A Political History - In Search of a Nation State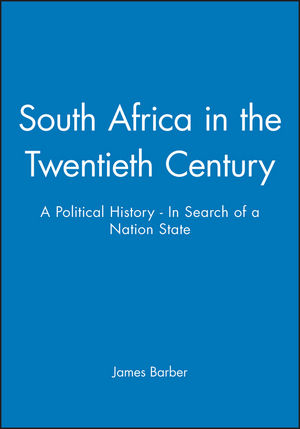 South Africa in the Twentieth Century: A Political History - In Search of a Nation State
ISBN: 978-0-631-19102-5
Oct 1999, Wiley-Blackwell
348 pages
Description
This book gives an account of the turbulent and remarkable political history of South Africa in the twentieth century, starting with the South African (Boer) War and finishing as Nelson Mandela comes to power.
Part I: The Clash of British Imperialism and Afrikaner Nationalism:
.
1. Prelude to War: Afrikaner and British Imperial Nationalism.
2. War, Peace and Reconstruction.
3. Afrikaners, Blacks and Reconstruction.
Part II: The White Union and Black Reaction:.
4. Responsible Government and the Union.
5. The New Union: White and Black Political Activity.
6. The Great War and its Aftermath.
7. The Pact Government and Segregation 1924-9.
8. From Pact to Fusion: Economic Depression and Black Opposition: 1929-39.
Part III: World War II and Apartheid:.
9. World War II and its Aftermath 1939-48.
10. African Nationalism Transformed: 1939-48.
11. The National Party Government 1948-61.
12.African Opposition: Communists, Congress and the Pan Africanist Congress.
Part IV: The Wind of Change:.
13. The New Republic, Sharpeville and the Granite Response.
14. Vorster and the Development of the Bantustans.
15. Black Resistance Inside and Outside the Republic.
Part V: Renewed Black Challenge: .
16. Soweto and its Aftermath.
17. Reform, Security and White Divisions Under P. W. Botha.
18. The Black Rising: and Answering Fire with Fire.
19. Retreat from the Rubicon: The Failure of Reform.
Part VI: Forging the New South Africa:.
20. In Search of a New South Africa.
21. Reaching Agreement: Negotiation, Tension and Violence.
22. Towards the Promised Land.
References.
Index.
"An exceptional survey of the political history of South Africa."
Times Literary Supplement.
<!--end-->
"Barber ... has written a detailed, interesting, and accurate analysis of an extraordinary country during an exceptional time" CHOICE.

"South Africa in the Twentieth Century is designed to introduce students of contemporary history, politics and international relations to key regions and themes which have dominated discussion of the past century. It does so admirably ... this is a book whose sheer erudition will guarantee it a prominent place on the shelves of anyone wishing to understand South Africa in the twentieth century." Contemporary British History

"This book is very accessible and engrossing, but is nevertheless of a high academic standard ... South Africa in the Twentieth Century is a major contribution to the literature on South African politics. It is essential reading not only for any scholar interested in South African politics but also for those with wider interests in questions of national self-identification and the way this affects political behaviour." Progress in Development Studies


Includes coverage of all the major political events that have shaped the turbulent history of South Africa.


Explores the ways in which power at central government level has been played out on the national stage.


Examines the issue of national identity and self identification as a central theme in the history of the country.