South Park and Philosophy: You Know, I Learned Something Today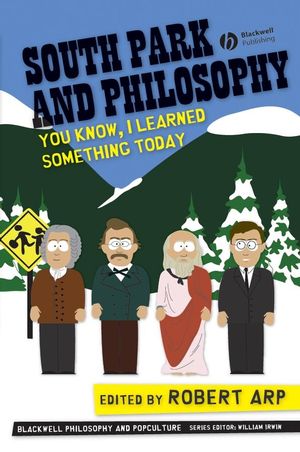 South Park and Philosophy: You Know, I Learned Something Today
ISBN: 978-1-405-18153-2 February 2009 Wiley-Blackwell 256 Pages
Description
If you think Saddam and Satan make a kinky couple, wait till you get a load of
South Park and Philosophy
. Get your Big Wheels ready, because we're going for a ride, as 22 philosophers take us down the road to understanding the big-picture issues in this small mountain town.


A smart and candid look at one of television's most subversive and controversial shows, celebrating its 10th anniversary this year

Draws close parallels between the irreverent nature of South Park and the inquiring and skeptical approach of philosophy

Addresses the perennial questions of the show, and the contemporary social and political issues that inspire each episode

Uses familiar characters and episodes to illustrate topics such as moral relativism, freedom of expression, gay marriage, blasphemy, democracy, feminism, animal ethics, existential questions and much more

makes you laugh out loud
Table of contents
South Park and Philosophy: You Know, I Learned Something Today
.
Edited by Robert Arp.
Contents.
Sucking Balls and Fucking Off: An Introduction to The Bothersome South Park and Philosophy.
Robert Arp.
I. TAKING SOUTH PARK SERIOUSLY… M'KAY.
1. Flatulence and Philosophy: A Lot of Hot Air, or the Corruption of Youth?.
William W. Young III.
2. Is It Okay to Laugh at South Park?.
Catherine Yu.
3. Blasphemous Humor in South Park.
Kevin J. Murtagh.
4. The Chewbacca Defense: A South Park Logic Lesson.
Robert Arp.
II. THE FAB FOUR.
5. You Know, I Learned Something Today: Stan Marsh and the Ethics of Belief.
Henry Jacoby.
6. Respect My Authorita! Is Cartman "The Law," and Even If He Is, Why Should We Obey Him?.
Mark D. White.
7. Oh My God! They Killed Kenny… Again: Kenny and Existentialism.
Karin Fry.
8. The Philosophical Passion of the Jew: Kyle the Philosopher.
William J. Devlin.
III. THE REPUBLIC OF SOUTH PARK.
9. The Invisible Gnomes and the Invisible Hand: South Park and Libertarian Philosophy.
Paul A. Cantor.
10. South Park and the Open Society: Defending Democracy Through Satire.
David Valleau Curtis and Gerald J. Erion.
11. "Vote or Die, Bitch": The Myth that Every Vote Counts and the Pitfalls of a Two-Party System.
John Scott Gray.
IV. ETHICS: DUDE… GAY MUSLIMS DON'T EAT VEAL.
12. They Satirized My Prophet…Those Bastards! South Park and Blasphemy.
David R. Koepsell.
13. You Can't Get Married, You're Faggots: Mrs. Garrison and the Gay Marriage Debate.
Jacob M. Held.
14. Just Don't Kill Baby Cows.
Cynthia McWilliams.
15. Four-Assed Monkeys: Genetics and Gen-Ethics in Small-Town Colorado.
Scott Calef.
V. WHO THE FUCK ARE YOU? WHORES, ROBOTS, AND BODIES.
16. Raisins, Whores, and Boys: Gender and Sexuality in South Park.
Ellen Miller.
17. AWESOM-O and the Possibility and Implications of Artificial Intelligence.
Randall M. Jensen.
18. Stan's Future Self and Evil Cartman: Personal Identity in South Park.
Shai Biderman.
VI. SATAN, SUFFERING, SUPER BEST FRIENDS, AND SONG.
19. Cartmanland and the Problem of Evil.
David Kyle Johnson.
20. Religious Pluralism and The Super Best Friends.
Jeffrey Dueck.
21. Aesthetic Value, Ethos, and Phil Collins: The Power of Music in South Park.
Per F. Broman.
22. Satan, Lord of Darkness, in South Park Cosmology.
Dale Jacquette.
Chef's Salty Ball-less Index.
The Super Best Contributors.
Special Surprise Bonus!.
Screw You Guys… I'm Going Home
Reviews
"Twenty-two philosophers can't be wrong. Here to confirm suspicions that a relevant subtext exists beneath the potty-mouthed facade of Comedy Central's "South Park" (now in its 10th season) is this indispensable collection of thought-provoking essays."
Boston Herald, January 5, 2007.
"Move over, Kant. South Park and Philosophy embodies a new categorical imperative: Read this collection, laugh, and think."
Nick Gillespie, Editor-in-Chief of Reason magazine

"Give Cartman some hemlock to drink so he can join Socrates for a meeting of the minds! Troubled by such philosophical conundrums as free will and determinism or the existence of God? Worry no more. Here you will find the way, the truth, and the light. Or not. Either way, if this book can't interest this generation in philosophy, then we're all screwed."
Michael Shermer, Publisher of Skeptic magazine, monthly columnist for Scientific American, and the author of Why Darwin Matters

What's New


A smart and candid look at one of television's most subversive and controversial shows, celebrating its 10th anniversary this year

Draws close parallels between the irreverent nature of South Park and the inquiring and skeptical approach of philosophy

Addresses the perennial questions of the show, and the contemporary social and political issues that inspire each episode

Uses familiar characters and episodes to illustrate topics such as moral relativism, freedom of expression, gay marriage, blasphemy, democracy, feminism, animal ethics, existential questions and much more

makes you laugh out loud