South of 49: The Canadian Guide to Buying Residential Real Estate in the United States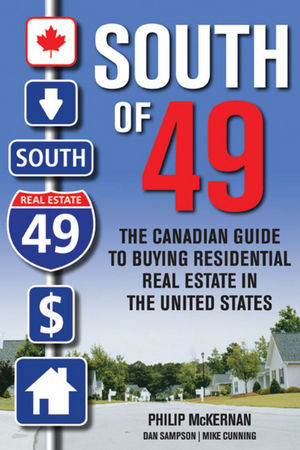 South of 49: The Canadian Guide to Buying Residential Real Estate in the United States
ISBN: 978-0-470-16131-9 October 2009 304 Pages
Description
""South of 49 is a must-read for anyone wanting to buy real estate in the United States. This groundbreaking book is jammed full of practical information that will ensure you avoid all the potential pitfalls.""
—Les Hewitt, author of The Power of Focus

""When buying real estate anywhere in the world, one must know all the facts and go in with eyes wide open. Before you even consider buying outside of Canada, know the realities by reading this book and learn from others' mistakes.""
—Don R. Campbell, best-selling author of Real Estate Investing in Canada

""For any Canadian, buying real estate in the US can be the best decision you ever make, or the worst mistake you'll never forget. Philip's the real deal-an international investor who speaks from experience. This book will teach you how to make a great deal, reduce your risk and enjoy the journey along the way.""
—Greg Habstritt, founder of SimpleWealth

From the Introduction:

Whether it's a lifestyle purchase or an investment, there are many factors about buying US property that many Canadian buyers understandably find confusing, or they overlook. Add to that the complexities of the new foreclosure-driven buyers' market, and buying a US property could be a recipe for disaster if you don't do your homework.

That's where South of 49 comes in. This book is about more than just tax advice and buying tips. We take you through all of the real-life considerations when buying down south, from travel time and immigration rules to making sure the home or condo you buy actually fits your investment goals. We will also help you answer one very important question when considering such a purchase: Why? Why should you buy a place and not just rent? Why should you buy in Florida instead of California, for example? The answers? It all depends. It depends on you, your individual circumstances and your goals. This book will help you think through these decisions before you make them.
Acknowledgments.
Introduction.
Chapter 1: Of Risk and Reward.
Chapter 2: Of Phoenix and Foreclosures.
Chapter 3: Of a Team and a Dream.
Chapter 4: Of Florida and Mount Everest.
Chapter 5: Of Experts and Equity.
Chapter 6: OF Ownership, Death and Taxes.
Chapter 7: OF a California Lifestyle and a Nevada Auction.
Chapter 8: Of Phoenix and Palm Springs, and Narrowing the Search.
Chapter 9: Of Offers and Counter-Offers.
Chapter 10: Of Escrow Officers and Closing the Deal.
Chapter 11: Victory.
Epilogue.
Index.