Space/Terrestrial Mobile Networks: Internet Access and QoS Support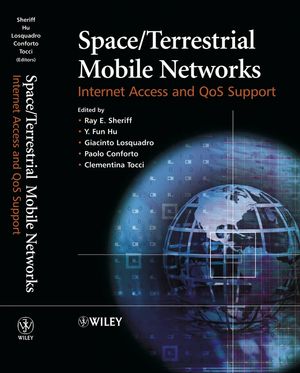 Space/Terrestrial Mobile Networks: Internet Access and QoS Support
ISBN: 978-0-470-85031-2 June 2004 286 Pages
Description
Space/Terrestrial Mobile Networks Internet Access and QoS Support
covers the design of a Global Mobile Broadband System (GMBS) based on the results of the European Commission's Framework Programme 5 Information Society Technologies (IST) Project SUITED. Many of the latest concept in mobility solutions, network design techniques and internet technologies are presented. The SUITED project has addressed a number of technical issues that are very much state-of-the-art. The presentation of such material in the form of a design of a real network provides a unique source of information.
This book:
Addresses the important topic of heterogeneous networks and the underlying tecyhnologies
Describes how to design an integrated satellite/terrestrial infrastructure where all the network components are fully merged together and integrated with the Internet Core network
Presents the service scenarios and system requirements of the Global Mobile Broadband System (GMBS)
Discusses the necessary QoS support and defines the novel admission control scheme Gauge & Gate Reservation with Independent Probing (GRIP)
Covers mobility management including Mobile-IP support and a QoS Support Module (QASM)
Describes the functional and network architectures and presents signalling protocols for mobility management in GMBS
Presents the design of signalling protocols and their implementation using the Specification and Description Language (SDL)
Space/Terrestrial Mobile Networks Internet Access and QoS Support has an accessible and practical approach to the subject and addresses in detail, the important topic of heterogeneous networks and the underlying technologies that make this concept possible.
Table of contents
Preface.
1. Introduction.
2. Multi-Segment Access Network.
3. GMBS Multi-Mode Terminal.
4. Service Requirements.
5. End-to-End Qquality of Service Support.
6. Mobility Support.
7. Network Protocol Design.
8. Performance Validation.
Appendix A: Related Publications.
Index.