Space and Social Theory: Interpreting Modernity and Postmodernity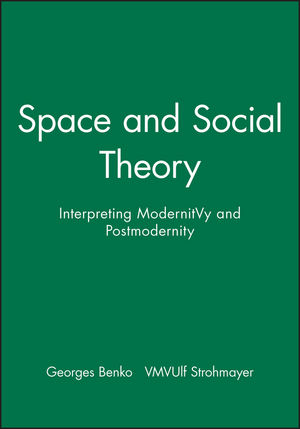 Space and Social Theory: Interpreting Modernity and Postmodernity
ISBN: 978-0-631-19467-5
Jul 1997, Wiley-Blackwell
420 pages
Description
In this book, the world's leading spacial theorists provide new accounts of the central questions and issues in social-spacial theory with critical perspectives on the post-modern condition.
List of Plates.
List of Figures.
List of Contributors.
Preface.
Introduction: Modernity, Postmodernity and the Social Sciences (Georges Benko).
Part I Reasons, Texts and Debates Around Postmodernism.
Postmodern Bloodlines (Michael Dear).
Social Theory, Postmodernism, and the Critique of Development (Richard Peet).
Shelf Length Zero: The Disappearance of the Geographical Text (Michael Curry).
Part II Writing Space, Forming Identities.
Re-Presenting the Extended Moment of Danger: A Meditation on Hypermodernity, Identity and the Montage Form (Allan Pred).
Identity, Space, and other Uncertainties (Wolfgang Natter and John Paul Jones).
Belonging: Spaces of Meandering Desire (Ulf Strohmayer).
Spatial Stress and Resistance: Social Meanings of Spatialization (Rob Shields).
Lacan and Geography: the Production of Space Revisited (Derek Gregory).
Part III Planning and the Postmodern .
Panning in/for Postmodernity (Ed Soja).
Warp, Woof and Regulation: A Tool for Social Science (Alain Lipietz).
Institutional Reflexivity and the Rise of the Regional State (Phil Cooke).
Part IV The Politics of Difference.
Postmodern Becomings: From the Space of Form to the Space of Potentiality (Julie Kathy Gibson-Graham).
Geopolitics and the Postmodern: Issues or Knowledge, Difference and North-South Relations (David Slater).
Postmodern Space and Japanese Tradition (Augustin Berque).
Imperfect Panopticism: Envisioning the Construction of Normal Lives (Matt Hannah).
Imagining the Normad: Mobility and the Postmodern Primitive (Tim Cresswell).
Conclusion.
Forget the Delivery, or, What Post are We Talking about? (Ulf Strohmayer).
Index
The world's leading geographical theorists focus on the interactions of space, difference, culture and identity
A unique synthesis of social and spatial theory
Locks into current debates on gender, marginality and discourse, and brings a welcome perspective on realities of experience and everyday life.