Spaces, Objects and Identities in Early Modern Italian Medicine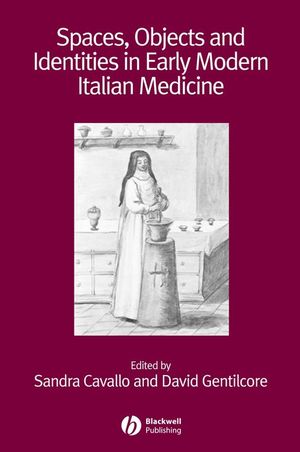 Spaces, Objects and Identities in Early Modern Italian Medicine
ISBN: 978-1-405-18040-5 April 2008 Wiley-Blackwell 136 Pages
Description
This collection, by an international team of scholars, presents exciting research currently being undertaken on early modern Italy which questions the conventional boundaries of medical history.
Brings together historians of medicine and scholars of different backgrounds who are re-visiting the field from new perspectives and with the support of innovative questions and unexplored sources
Explores crucial areas of intersection between the territory of medicine and that of law, politics, religion, art and material culture and highlights the connections between these apparently separate fields
Challenges our understanding of what we regard as medical activities, medical identities, spaces and objects
Addresses the study of medical careers, medical identities and spaces where medical activities were performed e.g. apothecary shops, courtrooms, convents and museums
Table of contents
Introduction (Sandra Cavallo, Royal Holloway, University of London and David Gentilcore, University of Leicester).
1. Miscarriages of Apothecary Justice: Un-separate Spaces of Work and Family in Early Modern Rome (Elizabeth S. Cohen, York University).
2. Pharmacies as Centres of Communication in Early Modern Venice (Filippo de Vivo, Birkbeck, University of London).
3. Women, Wax and Anatomy in the 'Century of Things' (Lucia Dacome, Centre Alexandre Koyré (CNRS) and University of Toronto).
4. Medical Competence, Anatomy and the Polity in Seventeenth-Century Rome (Silvia De Renzi, The Open University).
5. Malpighi and the Holy Body: Medical Experts and Miraculous Evidence in Seventeenth-Century Italy (Gianna Pomata, University of Bologna).
Index.
Reviews
"Reading these pages, we realise how medical historians have often neglected to consider some important spaces where medicine was practised, focusing instead on canonical settings such as hospitals, universities and anatomical theatres. In paying attention to other spaces, all the articles add new meaning to the concept of medical practice. … An important item for scholars interested in revitalising the field of the history of medicine." (Metascience, March 2009)
Features


Presents exciting examples of research currently being undertaken on early modern Italy which question the conventional boundaries of medical history

Brings together historians of medicine and scholars of different backgrounds who are re-visiting the field from new perspectives and with the support of innovative questions and unexplored sources

Explores crucial areas of intersection between the territory of medicine and that of law, politics, religion, art and material culture and highlights the connections between these apparently separate fields

Challenges our understanding of what we regard as medical activities, medical identities, spaces and objects

Addresses the study of medical careers, medical identities and spaces where medical activities were performed e.g. apothecary shops, courtrooms, convents and museums