Spaces of Environmental Justice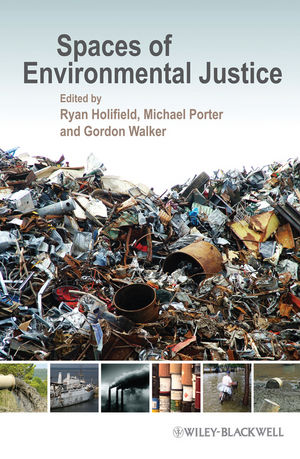 Spaces of Environmental Justice
ISBN: 978-1-444-39944-8 June 2011 Wiley-Blackwell 272 Pages
Description
In this cutting-edge volume, leading scholars examine a diverse range of environmental inequalities from around the world.
Shows how far the field has moved beyond its original focus on uneven distributions of pollution in the USA 
Considers the influence of critical geographical and social theory on environmental justice studies
Examines a range of possibilities for future research directions
Explores the challenges of investigating and pursuing environmental justice at a time of rapid economic and environmental change
Notes on Contributors.
Introduction.
1. Spaces of Environmental Justice: Frameworks for Critical Engagement (Ryan Holifield, University of Wisconsin-Milwaukee; Michael Porter, City University of New York Graduate Centre; and Gordon Walker, Lancaster University).
Part I: Frameworks for Critical Environmental Justice Research.
1. Beyond Distribution and Proximity: Exploring the Multiple Spatialities of Environmental Justice (Gordon Walker, Lancaster University).
2. Actor-Network Theory as a Critical Approach to Environmental Justice: A Case against Synthesis with Urban Political Ecology (Ryan Holifield, University of Wisconsin-Milwaukee).
3. Gendered Geographies of Environmental Justice (Susan Buckingham and Rakibe Kulcur both Brunel University).
4. Acknowledging the Racial State: An Agenda for Environmental Justice Research (Hilda Kurtz, University of Georgia).
Part II: Spaces for Critical Environmental Justice Research.
5. Digging Deep for Justice: A Radical Re-Imagination of the Artisanal Gold Mining Sector in Ghana (Petra Tschakert, The Pennsylvania State University).
6. Benevolent and Benign? Using Environmental Justice to Investigate Waste-Related Impacts of Ecotourism in Destination Communities (Zoë A. Meletis, University of Northern British Columbia and Lisa M. Campbell, Duke University).
7. Assembling Justice Spaces: The Scalar Politics of Environmental Justice in North-East England (Karen Bickerstaff, Durham University and Julian Agyeman, Tufts University).
8. Defining and Contesting Environmental Justice: Socio-Natures and the Politics of Scale in the Delta (Julie Sze, Jonathan London, Fraser Shilling, Gerardo Gambirazzio, Trina Filan, and Mary Cadenasso all University of California-Davis).
Index.