Spain's Centuries of Crisis: 1300 - 1474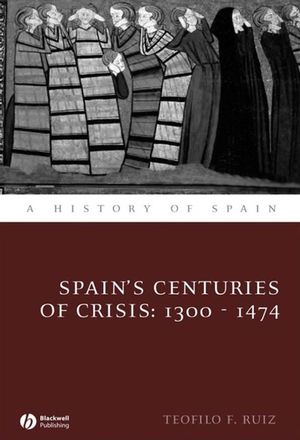 Spain's Centuries of Crisis: 1300 - 1474
ISBN: 978-0-470-69095-6 February 2008 Wiley-Blackwell 248 Pages
Description
A comprehensive history that focuses on the crises of Spain in the late middle ages and the early transformations that underpinned the later successes of the Catholic Monarchs.
Illuminates Spain's history from the early fourteenth century to the union of the Crowns of Castile and Aragon in 1474
Examines the challenges and reforms of the social, economic, political, and cultural structures of the country
Looks at the early transformations that readied Spain for the future opportunities and challenges of the early modern Age of Discovery
Includes a helpful bibliography to direct the reader toward further study
Table of contents
Preface and Acknowledgments.
Map 1. Spain in the late fifteenth century.
Map 2. The Crown of Aragon and the Western Mediterranean in the late Middle Ages.
1. At the Dawn of a New Century: The Spains around 1300.
2. Medieval Spain in the Late Middle Ages: Society and Economy.
3. The Answers of Politics: Spain, 1300-1350.
4. Toward Trastámara Spain, 1350-1412.
5. Spain in the Fifteenth Century: Toward the Rule of the Catholic Monarchs, 1412-1469.
6. The Sinews of Power: Administration, Politics, and Display.
7. Muslims, Jews, and Christians in a Century of Crisis.
8. Culture and Society in an Age of Crisis.
9. Epilogue.
Notes.
Bibliographical Essay.
Index.
Reviews
"The major accomplishment of this book, in addition to guiding the reader through the dangerous thickets of political and social upheaval, is the delineation of the factors that preserved the monarchy and expanded its potential sway." (
English Historical Review
, February 2009)
"The major accomplishment of this book, in addition to guiding the reader through the dangerous thickets of political and social upheaval, is the delineation of the factors that preserved the monarchy and expanded its potential sway." (English Historical Review, February 2009)
"A comprehensive history of the political development...during a period of...crisis.... Bridges the gap between the central Middle Ages and the Renaissance." (Speculum)
Features


Illuminates Spain's history from the early fourteenth century to the union of the Crowns of Castile and Aragon in 1474

Focuses on the crises of the late middle ages, including plague, famine, violence, and civil war

Examines the challenges and reforms of the social, economic, political, and cultural structures of the country

Looks at the early transformations that readied Spain for the future opportunities and challenges of the early modern Age of Discovery

Includes a helpful bibliography to direct the reader toward further study