Spain, 1157-1300: A Partible Inheritance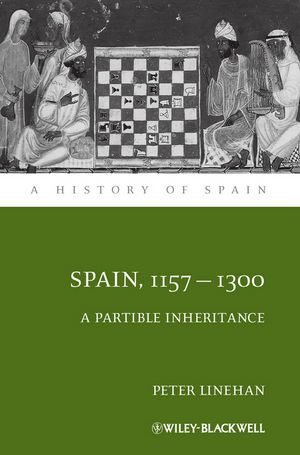 Spain, 1157-1300: A Partible Inheritance
ISBN: 978-1-444-34268-0 March 2011 Wiley-Blackwell 304 Pages
Description
Spain, 1157-1300
makes use of a vast body of primary and secondary source material to provide a balanced overview of a crucial period of Spanish as well as of European history.
Examines the most significant phase of Spanish mainland development
Considers the profound intellectual consequences of Christian advances into Islamic Spain
Explores the varying fortunes of the kingdoms of Castile and Aragon, and focuses on the reign of the learned Alfonso X of Castile
Utilizes the vast body of primary and secondary source material published over the past 30 years
Table of contents
Preface.
List of Abbreviations.
1 1157-1179.
Past and Present.
After the Emperor.
Two Royal Minorities.
2 The Age of Las Navas.
Life, Law and Memory.
Three Battles.
Implications of the Vernacular.
Castile Victorious.
3 1214-1248.
Doña Berenguela and Son.
'The Gate is Open and the Way Is Clear'.
Towards Valencia.
Conquest and Colonization.
Toledo and Seville.
After Valencia.
The Mediterranean Dimension.
4 Some Permanent Features.
Jews.
Moors.
Hunger, Kings and Capitals.
5 1252-1259.
Alfonso X: Promising Beginnings.
A Command Economy.
The Law.
Implications of Empire.
6 1259-1274.
Toledo and Translations.
International Complications.
The Mudéjar Rising.
The Alfonsine Histories.
7 1275-1284.
A Reign in Ruins.
France and Aragón.
1282.
Aragón Alone.
The Learned King.
8 The Changed Balance.
Castile after 1284.
A Question of Alliances.
'Neither Truth nor Faith'.
Epilogue.
Bibliography.
Glossary.
Reviews
"This is a masterly revisiting of the period, every clause of Linehan's sentences embodying not only that eloquence of rhetorical style he so admired in the work of another Fellow of St. John's, Prof. John Cook (see the obituary by Lineham in The Independent, 15 September 2007), but a freshness and vitality of vision that find their fullest expression in his portrait of King Alfonso el Sabio." (Speculuma Medieval Studies, April 2011)
"His expertise in both the history and the historiography of that period provides a complex, multifaceted perspective on an era that demands nothing." (English Historical Review, 1 August 2010)
"As the author of a survey of Spanish history in the late twelfth and early thirteenth centuries, Peter Linehan is a natural choice. His expertise in both the history and the historiography of that period provides a complex, multifaceted perspective on an era that demands nothing less." (English Historical Review, August 2010)
"The work presents a valuable scholarly addition that details medieval Spain through a large primary source body of evidence, and offers valuable insight into the multifaceted reality that was medieval Spain between 1157 and 1300." (Choice Reviews, May 2009)
"Peter Linehan's remarkable scholarly productivity richly qualifies him to be the author of such a book." (The American Historical Review, February 2009)
"The balance of the book represents in essence a study of the course and impact of Alfonso X's long and problematic reign, in the context of peninsular, European and Mediterranean politics and culture. The book is written in Linehan's trademark style, which readers will either find entertaining, frustrating or both. It is dense and detailed, written in breathless prose, peppered with ironies and inside jokes." (The Medieval Review, February 2009)
Features
Examines the most significant phase of Spanish mainland development
Considers the profound intellectual consequences of Christian advances into Islamic Spain
Explores the varying fortunes of the kingdoms of Castile and Aragon, and focuses on the reign of the learned Alfonso X of Castile
Utilizes the vast body of primary and secondary source material published over the past 30 years