Speakers and the Speakership: Presiding Officers and the Management of Business from the Middle Ages to the Twenty-first Century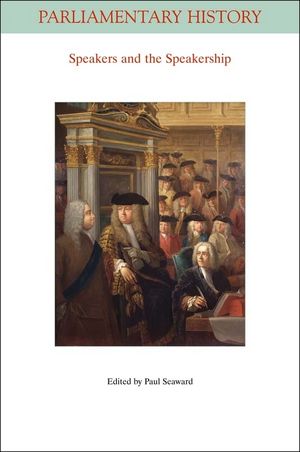 Speakers and the Speakership: Presiding Officers and the Management of Business from the Middle Ages to the Twenty-first Century
ISBN: 978-1-444-33289-6
Feb 2010, Wiley-Blackwell
160 pages
Description
This volume explores the role of the Speaker and the Lord Chancellor in the Westminster Parliament before the advent of democracy, setting it beside the practice at Dublin and Edinburgh over the same period, and the more recent history of the role at London and Washington.
First in-depth study since the mid-1960s of how Speakers and the Speakership have operated in Parliament in Britain
Includes contribution by the former Speaker of the House of Commons, Baroness Boothroyd, describing her own tenure of the Speakership
Covers practice at Westminster and at Dublin and Edinburgh, and a comparison of Speakers at Westminster and Washington during the nineteenth and twentieth centuries
Composed of papers from a conference held at the House of Commons in April 2008
List of Contributors.
Introduction (Paul Seaward, History of Parliament).
1. Speakers at War in the Late 14th and 15th Centuries (Anne Curry, University of Southampton).
2. The Tudor Speakers 1485–1601: Choosing, Status, Work (Alasdair Hawkyard, Royal Historical Society).
3. Chancellors, Presidents and Speakers: Presiding Officers in the Scottish Parliament before the Restoration (Alan R. MacDonald,University of Dundee).
4. Speakers in the 17th-Century Irish Parliament (Coleman A. Dennehy, St Patrick's College, Maynooth).
5. The Reputation and Authority of the Speaker and the Speakership of the House of Commons, 1640–60 (Stephen K. Roberts,History of Parliament).
6. The Speaker in the Age of Party, 1672–1715 (Paul Seaward,History of Parliament).
7. The Speakership of the House of Lords, 1660–1832 (Ruth Paley, History of Parliament).
8. Thurlow, Eldon and Lyndhurst and the Management of the House of Lords (Richard W. Davis, Washington University).
9.  'Nothing Could Exceed the Badness of His Character Even in This Bad Age' (Sir William McKay,Council of the Law Society of Scotland).
10. The Role of the Speaker in the 20th Century (The Rt Hon. Baroness Boothroyd, MP).
Index.
"Both of these books contribute much to our under-standing of the history and current practice of the Speakership, and to the way in which well-documented parliamentary questions in the UK as well as across Europe can provide a ready source of scholarly investigation.."  (Political Studies Review, 7 August 2013)
First in-depth study since the mid-1960s of how Speakers and the Speakership have operated in Parliament in Britain
Includes a contribution by the former Speaker of the House of Commons, Baroness Boothroyd, describing her own tenure of the Speakership
Covers practice at Westminster and at Dublin and Edinburgh, and a comparison of Speakers at Westminster and Washington during the nineteenth and twentieth centuries
Composed of papers from a conference held at the House of Commons in April 2008