Speaking Desires can be Dangerous: The Poetics of the Unconscious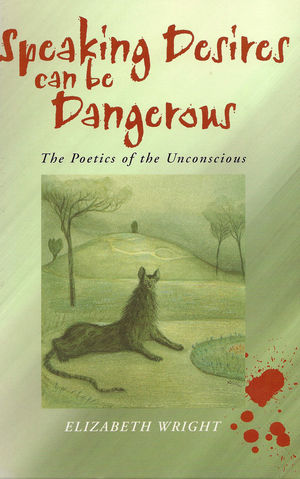 Speaking Desires can be Dangerous: The Poetics of the Unconscious
ISBN: 978-0-745-61967-5 April 2000 Polity 208 Pages
Description
This new book is a lively and original study of psychoanalysis and its relations to the arts.
Table of contents
Introduction.
Part I: Psychoanalysis and Literature: Freud.
1. What is a psychoanalytic reading?.
2. The uncanny and its poetics.
3. The vagaries of fantasy: Kubin's The Other Side. .
4. Maladies of the soul: the poetics of Julia Kristeva.
Part II: Psychoanalysis and Language: Lacan.
5. What is discourse?.
6. The indirections of desire: Hamlet. .
7. Inscribing the body politic: Robert Coover's Spanking the Maid. .
8. What does Woman want?: The Double Life of Véronique.
Part III Patients and Analysts: Readers and texts.
9. What is a clinical 'case'?.
10. The rhetoric of clinical discourse: Dialogue with Sammy. .
11. The rhetoric of clinical management: Bion and Minuchin.
12. Out of tune: Elfriede Jelinek's The Piano Teacher.
Conclusion.
Notes.
Bibliography.
Index.
Reviews
"The extraordinary achievement of Wright's book is that it inverts the standard psychoanalytic approach to art, which consists in bringing to light the unconscious pathological complexes that underlie the work of art - for Wright, and in the best Lacanian tradition, it is the poetics, the rhetorical strategies of language itself, that provide the key to the formations of the unconscious. The consequent deployment of this insight makes the book an instant classic that will stay around for decades."
Slavoj Zizek
"Elizabeth Wright provides a "how-to" handbook on reading literary texts through psychoanalytic theory. She carefully and intelligently presents a compact description of a psychoanalytic reading, defines "discourse", as well as the "clinical case". These are the three core concepts for any understanding of a psychoanalytic approach to literature and language. They are well illustrated by insightful and comprehensible examples from Shakespeare to the German expressionist Alfred Kubin and the American writer Robert Coover and by examples from pyschoanalysts Julia Kristeva, Joyce McDougall and Wilfred Bion. An indispensable guide for student and critic alike." Sander Gilman

"With an acute eye Speaking Desires seamlessly weaves together psychoanalytic theory and literary criticism as only one equally at ease in both discourses can do." Psychoanalytic Studies
Features
* A highly original contribution to literary and psychoanalytic theory.
* Explores the relationship between art and literature and the clinical practice of psychoanalysis.
*Written by one of the leading authors within the field.