Special Events: The Roots and Wings of Celebration, 5th Edition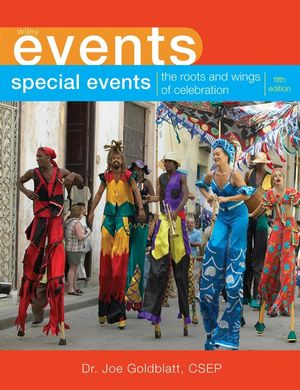 Special Events: The Roots and Wings of Celebration, 5th Edition
ISBN: 978-0-470-14492-3 August 2007 528 Pages
Description
With engaging writing and a plethora of professional resources, this is the definitive ?how-to? guide for Event Professionals and students pursuing a career in Event Management.
Foreword.
Preface.
Acknowledgments.
PART ONE: Theory of Event Leadership.
Chapter 1 Welcome to Event Leadership.
Chapter 2 Models of Global Event Leadership.
PART TWO: Event Administration.
Chapter 3 Developing and Implementing the Event Plan.
Chapter 4 Event Leadership through Human Resource and Time Management.
Chapter 5 Financial Administration.
PART THREE: Event Coordination.
Chapter 6 Managing Vendor Contracts.
Chapter 7 On-Site Event Production.
PART FOUR: Event Marketing.
Chapter 8 Advertising, Pubic Relations, Promotions, and Sponsorship.
Chapter 9 Online and Computer-Generated Media.
PART FIVE: Legal, Ethical, and Risk Management.
Chapter 10 Risk Management: Legal and Financial Safeguards.
Chapter 11 Inclusivity, Morality, Law, and Ethics in Event Leadership.
PART SIX: Technology for Professional Development.
Chapter 12 Technology for Modern Event Leadership.
Chapter 13 Career Development, Advancement, and Sustainable Success.
Chapter 14 Best Practices in Event Leadership.
Chapter 15 Case Studies in Twenty-First-Century Event Leadership.
APPENDICES.
Appendix 1 References.
Appendix 2 Organizations and Resources.
Appendix 3 Internet Sites.
Appendix 4 Periodicals.
Appendix 5 APEX Resources.
Appendix 6 Directories.
Appendix 7 Audio and Video Resources.
Appendix 8 Software.
Appendix 9 Sample Client Agreement.
Appendix 10 Sample Vendor Agreement.
Appendix 11 Sample Insurance Certificate.
Appendix 12 Sample Catering Menu.
Appendix 13 Sample Incident Report.
Appendix 14 Sample Purchase Order.
Appendix 15 Sample Event Evaluations.
Appendix 16 Sample Event Survey.
Appendix 17 International Special Events Society Principles of Professional Conduct and Ethics.
Index.
New Profiles in Event Leadership—learn what makes the greats great and their events truly spectacular

Broader coverage of production schedules and event resumes

New coverage of organizational tools such as the APEX Event Specification Guide

Expanded coverage of leadership in the event industry including the three major leadership styles for Event Leaders and four new Best Practices in Event Leadership case studies

New coverage on use of technology tools such as blogs, podcasts, streaming video, and shopping carts to promote events

Expanded coverage and new examples of promoting diversity and inclusivity with guests

New guidelines for managing risk in a world impacted by terrorism

Revised and expanded discussion of law and ethics in special events

Over 100 new Web resources throughout the text
Provides current and future event leaders with a comprehensive guide to understanding, planning, promoting, and producing special events

Study prep section for the Certified Special Events Professional (CSEP) exam

Inspiring profiles of Event Leaders

Real-world case studies in 21st-century event management

Emphasizes the growing globalization of the profession, taking into account the skill set leaders need in order to deal with other cultures, societies, and business practices

Provides information on risk management and security issues