Special Papers in Palaeontology, Number 73, Conodont Biology and Phylogeny: Interpreting the Fossil Record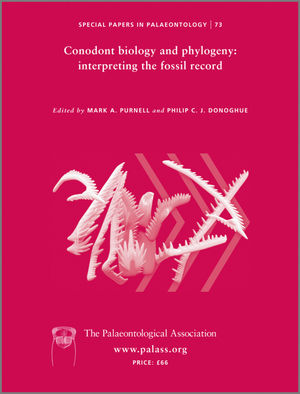 Special Papers in Palaeontology, Number 73, Conodont Biology and Phylogeny: Interpreting the Fossil Record
ISBN: 978-0-901-70297-5
Apr 2005
218 pages
Description
Special Papers in Palaeontology, published by The Palaeontological Association, is a series of substantial separate works conforming to the style of the Palaeontology journal. Two issues are published each year and feature high standard illustrations.
Discusses the nature and quality of the conodont fossil record.
Brings together researchers, geologists and enthusiasts who continue to find material of significance.
Contributors include Walter C. Sweet, Howard A. Armstrong, Oliver Lehnert, James F. Miller and Steven A. Leslie.
Includes 3 plates, 9 tables and 79 text-figures.
Preface (
Mark A. Purnell and Philip C. J. Donoghue
).
Between Death and Data: Biases in Interpretation of the Fossil Record of Conodonts (Mark A. Purnell and Philip C. J. Donoghue).
Modes of Growth in the Euconodont Oral Skeleton: Implications for Bias and Completeness in the Fossil Record (Howard A. Armstrong).
An Experimental Investigation of Post-depositional Taphonomic Bias in Conodonts (Peter H. Von Bitter and Mark A. Purnell).
Biases in the Recovery and Interpretation of Micropalaeontological Data (Lennart Jeppsson).
Multielement Conodont Apparatuses of Triassic Gondolelloidea (Michael J. Orchard).
Silurian Conodont Biostratigraphy and Palaeobiology in Stratigraphic Sequences (James E. Barrick and Peep Mannik).
Cambro-Ordovician Sea-level Fluctuations and Sequence Boundaries: The Missing Record and the Evolution of New Taxa (Oliver Lehnert, James F. Miller, Steven A. Leslie, John E. Repetski and Raymond l. Ethington).
Graphical Refinement of the Conodont Database: Examples and a Plea (Walter C. Sweet).
The Likelihood of Stratophenetic-based Hypotheses of Genealogical Succession (Peter D. Roopnarine).
The Chronophyletic Approach: Stratophenetics Facing an Incomplete Fossil Record (Jerzy Dzik).
Cladograms, Phylogenies and the Veracity of the Conodont Fossil Record (Linda M. Wickstrom and Philip C. J. Donoghue).