Special Papers in Palaeontology, Number 78, Graptolites from the Upper Ordovician and Lower Silurian of Jordan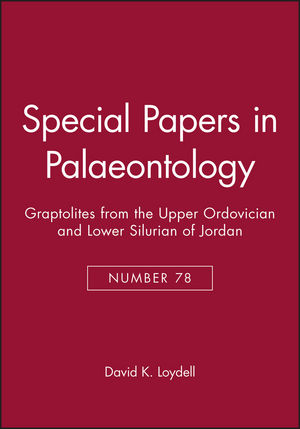 Special Papers in Palaeontology, Number 78, Graptolites from the Upper Ordovician and Lower Silurian of Jordan
ISBN: 978-1-405-17978-2 November 2007 Wiley-Blackwell 68 Pages
Description
Special Papers in Palaeontology, published by The Palaeontological Association, is a series of substantial separate works conforming to the style of the Palaeontology journal. Two issues are published each year and feature high standard illustrations.



This issue investigates the forty-two graptoloid graptolite species which are described from the upper Hirnantian persculptus Biozone, lower Rhuddanian ascensus-acuminatus and vesiculosus biozones and Aeronian of Jordan.

Studies the recent interest in modelling the deposition of the organic-rich shales of latest Ordovician and early Silurian age in Jordan which has led to the collection of a considerable number of graptolites.

Brings together researchers, geologists and enthusiasts who continue to find material of significance.

Includes 2 plates and 22 text-figures.
Introduction.
Previous Work.
Locality Information.
Biostratigraphy.
Characters.
Systematic Palaeontology.
Neodiplograptus.
Normalograptus.
Paraclimacograptus.
Metaclimacograptus.
Sudburigraptus.
Cystograptus.
Akidograptus.
Parakidograptus.
Rhaphidograptus.
Dimorphograptus.
Atavograptus.
Huttagraptus.
Conclusions.
Acknowledgements.
References.
Appendix.


This issue investigates the forty-two graptoloid graptolite species which are described from the upper Hirnantian persculptus Biozone, lower Rhuddanian ascensus-acuminatus and vesiculosus biozones and Aeronian of Jordan.


Studies the recent interest in modelling the deposition of the organic-rich shales of latest Ordovician and early Silurian age in Jordan which has led to the collection of a considerable number of graptolites

Brings together researchers, geologists and enthusiasts who continue to find material of significance

Includes 2 plates and 22 text-figures