Specialty Shop Retailing: Everything You Need to Know to Run Your Own Store, 3rd Edition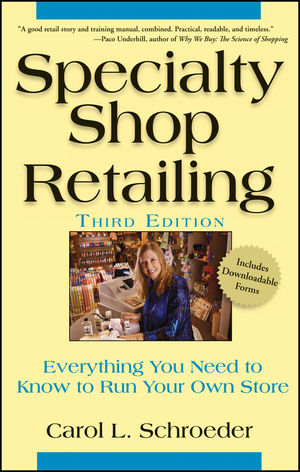 Specialty Shop Retailing: Everything You Need to Know to Run Your Own Store, 3rd Edition
ISBN: 978-0-470-10741-6
Jun 2007
432 pages
Product not available for purchase
Description
Unlike other books on retailing, Specialty Shop Retailingis aimed at the reader who has a dream of opening a store, but little background in this type of business. The book takes into account the fact that their motivation is often not primarily monetary, but rather the intangible benefits of creating your own business and working with people and products that you love. This new and improved 3rd edition includes material about selling on the Internet, including eBay storefronts; online marketing and customer service improvements; and changes in the retailing field, such as competing with big box retailers and the demise of the sales rep system.
Chapter 1. Getting Started
.
Finding Your Customers: Market Research.
Are You Ready for Retailing?
Franchise Opportunities.
Buying an Existing Business.
Starting Small or Staying Small.
Writing a Successful Business Plan.
Selecting Your Legal Format.
Financing Your Business.
Getting the Necessary Permits and Licenses.
Finding the Perfect Location.
Naming Your Store.
Developing a Logo.
Where to Get Help.
Ready, Set, Go!.
Chapter 2. Managing Your Store's Finances.
Setting Up Your Sales System.
Bookkeeping 101.
Understanding Financial Reports.
Working with an Accountant.
Creating Budgets and Future Plans.
Tips for Taking Inventory.
Business Office Essentials.
The Bottom Line.
Chapter 3. Successful Store Design.
Establishing a Design Budget.
Updating Your Look by Remodeling.
The Perfect Design Concept.
Welcome: The Storefront and Entranceway.
Efficient Layout Plans.
Well Grounded: Flooring Materials.
The Backdrop: Wall Treatments.
Lighting for Effect.
A Different Kind of Overhead: Ceilings.
Selling on Several Levels.
Maximizing Merchandise Fixtures.
Interior Signage that Sells.
Checking Out the Cash Wrap Area.
Store Security Concerns.
Background Music for Shopping Pleasure.
Creating an Aromatic Environment.
Restrooms, Offices and Other Backstage Needs.
Chapter 4. Gathering the Goods: Merchandise Buying.
Targeting Your Typical Customer.
Establishing a Buying Budget.
Where to Look for Great Merchandise.
Knowing What to Order.
Determining the Quantity.
Stretching Your Budget By Consignment.
Developing Original, Exclusive Products.
Higher Margins through Direct Importing.
Keeping Inventory Under Control.
Seasonal Planning Tips.
Buying for Displays and Promotion.
Benefiting from Working with Sales Reps.
Buying Trip Tools.
Establishing Your Store's Financial Credibility.
Using Purchase Order Forms Efficiently.
Professional Ordering Procedures.
Specifying Shipping Preferences.
Setting Retail Prices.
Developing Beneficial Vendor Relations.
Chapter 5. Visual Merchandising: Displays that Sell.
Check-in Time for New Arrivals.
Coping with Problem Shipments.
Pricing the Merchandise.
Getting the Goods on Display.
Maintaining Merchandising Excellence.
Using Store Windows Effectively.
Visual Merchandising in the Future.
Chapter 6. Finding and Keeping Great Employees.
Do You Need Employees?
Enlightened Leadership: Participative Democracy.
Hiring for Special Job Functions.
Appealing to a Shrinking Workforce.
Where to Look for Good Employees.
The "How to Hire" Guide.
Government Forms for New Employees.
The Employment Agreement.
Staff Training on Store Procedures.
Your Store's Employee Handbook.
The Importance of Flexible Scheduling.
Compensating Your Staff.
Attractive Benefits and Perks.
Using Open-Book Management.
The Importance of Employee Evaluations.
Correcting Performance Problems.
Saying Goodbye: The Exit Interview.
Creating Team Spirit.
Chapter 7. Customer Service Essentials.
Motivating Employees to Give Great Service.
Time to Shop: Setting Store Hours.
Setting a Customer-Friendly Return Policy.
For Customer Convenience and Comfort.
Services that Exceed Customers' Expectations.
Added Sales through Wedding and Gift Registries.
Hot Trend: Gift Cards and Gift Certificates.
Special Service: Customer Orders and Holds.
Evaluating Customer Service.
Chapter 8. Getting the Word Out: Advertising Your Shop.
Establishing an Advertising Budget.
Tools for Targeting Your Market.
Choosing the Best Media for the Money.
Should You Use an Ad Agency?.
Using Co-op to Stretch Your Budget.
Welcome to the World of Print Advertising.
Effective In-Store Advertising.
Direct Mail: Making the Best Use of Your List.
Broadcast Media: Radio and Television.
Retailing Online: The Next Wave.
Evaluating Your Advertising's Effectiveness.
Advertising When Sales Are Down.
Chapter 9. Using the Internet to Promote and Prosper.
Establishing Your Home on the Web.
Advertising Online: Web Site Essentials.
Using E-mail for Customer Contact.
Permission Marketing via E-mail.
Keeping in Touch with Staff: Internal E-mail.
Bricks to Clicks: Selling Online.
Choosing Your Approach to Online Sales.
Shopping Basket Security Issues.
Better Service via the Web for In-store Customers.
Filling Internet Orders Efficiently.
How to Draw Customers to Your Web Site.
Chapter 10. Creative Promotion and Publicity.
Sales, Sales, Sales.
Alternative Ideas for Store Promotion.
Rewarding Customer Loyalty.
Catering to Consumers Through Collectors' Clubs.
Special Events to Attract Shoppers.
Taking it On the Road: Events Outside the Store.
Garnering Publicity and Good P.R..
Chapter 11. Beating the Big Box Stores.
Finding Your Special Niche.
Offering Stellar Customer Service.
The "Buy Local" Call to Action.
Independents' Day is Here.
Turning the Tide on Big Box Development.
What to do When Wal-Mart Comes to Town.
Chapter 12. Good Works are Good Business.
Charitable Donations: What and Where to Give.
Hosting Fund-Raisers and Benefits.
Selling Goods that Do Good.
Museum and Hospital Shops: Retailers Who Serve.
Environmentally Sound Retailing.
Giving Something Back to the Community.
Providing Community Leadership.
Taking a Stand: Community Leadership.
Volunteering Your Time.
The Rewards of Giving.
Chapter 13. Managing During Tough Times.
Insuring Against Crime, Disasters and Other Crises.
Curtailing Shoplifting and Employee Theft.
Preventing Burglaries and Holdups.
Fires, Storms and Natural Catastrophes.
What to Do When Disaster Strikes.
When You Lose Your Lease.
Customers Can Be Trouble.
Coping with Vandalism and Graffiti.
Surviving Personnel Problems.
When You're in Financial Trouble.
Responding to Bad Publicity.
Keeping an Upbeat Attitude.
Chapter 14. Improving Sales and Profitability.
Boosting Your Sales Income.
Growing Sales Through Relationship Marketing.
Targeting Luxury Shoppers and Corporate Sales.
Markup Can Make Up Your Margins.
Expenses Down = Profits Up.
The Dangers of Too Much Inventory.
Plugging the Holes.
Staying Alert to Changes.
Chapter 15. Looking to the Future.
Riding the Wave of Success.
Small Can Be Beautiful.
If You Decide to Grow Your Business.
Moving On: Selling or Closing Your Store.
Life Planning Issues for Shopkeepers.
Running the Mature Business.
The Outlook for Retailing is Bright.
Glossary.
Resource Guide.
Index.
| | |
| --- | --- |
| Figure 1.3: Start-up checklist | Download |
| Figure 1.3 Continued | Download |
| Figure 4.2: Sample perpetual inventory form | Download |
| Figure 4.3: Sample credit reference sheet | Download |
| Figure 4.4: Sample purchase order form | Download |
| Figure 5.1: Sample arrivals chart | Download |
| Figure 5.2: Sample back order check-in form | Download |
| Figure 5.3: Sample problem slip | Download |
| Figure 5.4: Sample "When will you ship?" form | Download |
| Figure 6.1: Sample employment application | Download |
| Figure 6.1 Continued | Download |
| Figure 6.2: Job description slip | Download |
| Figure 6.3: Sample employment agreement | Download |
| Figure 6.4: Sample employee emergency contact form | Download |
| Figure 6.5:Sample time card | Download |
| Figure 6.6: Sample employee purchase record | Download |
| Figure 6.7: Sample employee courtesy discount card | Download |
| Figure 6.8: Sample employee evaluation form | Download |
| Figure 6.9: Job performance improvement agreement | Download |
| Figure 6.10: Exit interview form | Download |
| Figure 6.11: Way to Go! Voucher | Download |
| Figure 7.1: Sample cash refund form | Download |
| Figure 7.2: Sample gift receipt | Download |
| Figure 7.3: Sample credit slip | Download |
| Figure 7.4: Sample defective merchandise form | Download |
| Figure 7.5: Sample return policy | Download |
| Figure 7.6: Sample shipping form | Download |
| Figure 7.7:Sample to be shipped form | Download |
| Figure 7.8: Sample shipped-order acknowledgement | Download |
| Figure 7.8 Continued: Thank-you note | Download |
| Figure 7.9: Sample gift certificate record | Download |
| Figure 7.10: Sample customer request card | Download |
| Figure 7.11: Sample on-hold slip | Download |
| Figure 7.12: Sample customer hold card | Download |
| Figure 8.3: Sample mailing list card | Download |
| Figure 10.1: Sample senior citizen discount card | Download |