Specific Speech and Language Disorders in Children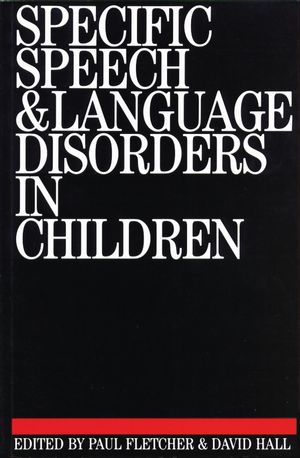 Specific Speech and Language Disorders in Children
ISBN: 978-1-870-33242-2
Nov 1992
274 pages
Product not available for purchase
Description
Presents papers from the Second International Symposium organized by AFASIC - The Association For All Speech Impaired Children - an association of parents and professionals seeking to advance knowledge and management of children and young people with speech and language impairments.
Opening address (English version).
Opening address (Czech version).
Preface.
Contributors.
Part I Factors Relavant to Language Impairment.
Chapter 1 Biological basis of developmental language disorders - Dorothy V.M. Bishop.
Chapter 2 Qualitative differences in the conversational interactions of SLI children and their younger siblings - Grame D. Hutcheson and Gina Conti-Ramsden.
Chapter 3 The relationship between deprivation, physical growth and the impaired development of language - David Skuse.
Chapter 4 Genetics and language disorder - Marcus Pembrey.
Chapter 5 Language delay and social development - Michael Rutter, Lynn Mahwood and Patricia Howlin.
Part II Brain, Cognition and Language Impairment.
Chapter 6 Brain injury and language impairment in childhood - Dorothy M. Aram.
Chapter 7 Brain imaging and language - Richard Robinson.
Chapter 8 Cognitive abilities of language-impaired children - Judith R. Johnston.
Part III Language Impairment: Cross-cultural Perspectives.
Chapter 9 Specific language impairment in three languages: some cross-linguistic evidence - Laurence B. Leonard.
Chapter 10 Child language impairment in the Hong Kong context - Ann Zubrick.
Chapter 11 Child language impairment in Swedish children: a multidisciplinary approach - Ulrika Nettelbladt.
Chapter 12 Subgroups in school-age language-impaired children - Paul Fletcher.
Part IV Outcomes, Intervention and the Curriculum.
Chapter 13 A longitudinal study of language-impaired children from a residential school - Corinne Haynes.
Chapter 14 Reading and writing skills in the National Curriculum - Katharine Perera.
Chapter 15 Promoting reading and spelling skills through speech therapy - Joy Stackhouse.
Chapter 16 Collaboration between speech and language therapists and teachers - Jannet A. Wright.
Chapter 17 Principled decision making in the remediation of children with phonological disability - Pamela Grunwell.
Chapter 18 Early screening and intervention - David M.B. Hall.
Index.