Spectacle and Display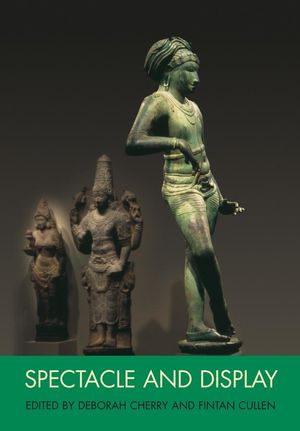 Spectacle and Display
ISBN: 978-1-405-17524-1
May 2008, Wiley-Blackwell
200 pages
Description
Leading international scholars and younger researchers address issues such as museum display, collecting, the creation of visual spectacles, institutional histories, curatorial strategies, cultural exclusion and definitions of heritage.
An authoritative analysis on the way that art and the visual are displayed and presented
Explores a variety of cultural contexts and historical periods
A benchmark collection addressing specific displays and notable objects alongside the politics of spectacle and questions of audience
1. Spectacle and Display: Setting the Terms (
Deborah Cherry and Fintan Cullen
).
2. Artists' Pages (Neil Cummings and Marysia Lewandowska).
3. Empathetic Vision: Looking at and with a Performative Byzantine Miniature (Robert S. Nelson).
4. A Faceless Society? Portraiture and the Politics of Display in Eighteenth-century Rome (Sabrina Norlander Eliasson).
5. Laying Siege to the Royal Academy: Wright of Derby's View of Gibraltar at Robins's Rooms, Covent Garden, April 1785 (John Bonehill).
6. 'Walking for Pleasure'? Bodies of Display at the Manchester Art-Treasures Exhibition in 1857 (Helen Rees Leahy).
7. Museum Studies Now (Andrew McClellan).
8. The Logic of Spectacle c. 1970 (Angus Lockyer).
9. Display at the National Portrait Gallery, London, 1968–1975 (Peter Funnell).
10. Narratives of Display at the National Gallery, London (Charles Saumarez Smith).
11. 'Our Gods, Their Museums': the Contrary Careers of India's Art Objects (Tapati Guha-Thakurta).
Notes on Contributors.
Index.
"International experts and new researchers dissect centuries of museum exhibition … which breathes fresh perspective … .Insights on individual displays … allow for deeper examinations of such issues as collecting institutional history and defining heritage." (Museum News, November 2008)


An authoritative analysis on the way that art and the visual are displayed and presented

Includes contributions from leading international scholars as well as younger researchers

Addresses issues such as museum display, collecting, the creation of visual spectacles, institutional histories, curatorial strategies, cultural exclusion and definitions of heritage

Explores a variety of cultural contexts and historical periods

A benchmark collection addressing specific displays and notable objects alongside the politics of spectacle and questions of audience