Spend Shift: How the Post-Crisis Values Revolution Is Changing the Way We Buy, Sell, and Live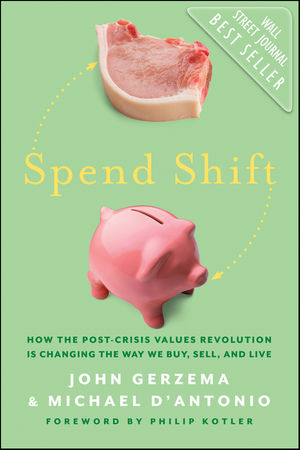 Spend Shift: How the Post-Crisis Values Revolution Is Changing the Way We Buy, Sell, and Live
ISBN: 978-0-470-87443-1
Oct 2010, Jossey-Bass
288 pages
Product not available for purchase
Description
Gold Medal Winner, General Business, 2012 Axiom Business Book Awards
Understanding the post-crisis consumer
In Spend Shift, John Gerzema, world-renowned expert on consumer values, and Pulitzer prizewinning author Michael D'Antonio document the rise of a vibrant, values-driven post-recession economy. To tell the story of this movement, the authors travel to large cities and small towns across eight bellwether states, to examine the value shifts sweeping the nation. Through in-depth observation, proprietary data from Young & Rubicam, and interviews with experts, the authors analyze the changing consumer psyche, document the five shifting values and consumer behaviors that are remaking America and the world, and explain what it means to businesses and leaders.
Explores a movement in society where the majority of American consumers are embracing both value and values
Shows how post-crisis consumer expectations and behaviors will drive business decisions
Draws on interviews with CEOs and entrepreneurs to reveal how companies like Ford and Etsy are reconnecting with the post-crisis consumer
Compelling and insightful, Spend Shift is essential reading for anyone interested in how values are changing and how businesses can connect with consumers after the recession.
Foreword, by Philip Kotler.
Introduction: Numbers and Their Meaning: Kansas City, Missouri.
The Enduring Impact of the Great Recession on Our Values and on Consumerism.
1 The New American Frontier: Detroit, Michigan.
"Indestructible Spirit"—The Values of Optimism, Resiliency, and Opportunity.
2 Don't Fence Me In: Dallas, Texas.
"Retooling"—The Values of Self-Reliance, Faith, and Betterment.
3 The Badge of Awesomeness: Boston, Massachusetts.
"Liquid Life"—The Values of Nimbleness, Adaptability, and Thrift
4 An Army of Davids: Tampa, Florida.
"Cooperative Consumerism"—The Values of Community, Collaboration, and Respect.
5 Block Party Capitalism: Brooklyn, New York.

"From Materialism to What's Material"—The Values of Character, Authenticity, and Performance.
6 The Quality of the Lion: Las Vegas, Nevada.
Reinventing Business Models and Corporate Culture to Rebuild Trust.
7 The Citizen Corporation: Dearborn, Michigan.
How Large Institutions Are Becoming Truly Public Companies.
8 Innovation Nation: San Francisco, California.
America as an Emerging Market for Values-Led Ideas.
Coda: The Takeaway: Los Angeles, California.
Ten Ways the Modern Enterprise (and Individual) Can Thrive in the Post-Crisis Age.
Suggested Reading.
Acknowledgments.
Notes.
About the Authors.
Index.
A much-needed optimistic yet realistic look at how the recession might be prompting behaviors that will change our society for the better. America, argue the authors, is undergoing a radical but positive shift in consumer values, away from the buying frenzy of the last few decades. Tracking purchasing and social attitudes in the U.S., Gerzema (The Brand Bubble) and D'Antonio (Hershey) observe that the recession has encouraged a resurgence of old-fashioned values--self-reliance, hard work, thrift, and community service. They present studies of such salutary developments as neighborhood revitalization in Detroit, job training in suburban Dallas, and increasing entrepreneurship in Brooklyn. According to the authors, as people adapt to the crisis by seeking greater balance and more fulfilling daily lives, they're more likely to shift to supporting local businesses (ensuring tax dollars stay in their own communities), learning traditional DIY skills, and paying attention to the ethical and environmental practices of the companies to whom they give money. (Oct.) (
Publishers Weekly
, August 23, 2010)
'Through indepth observation, expert interviews and unique market data… describes the new "value-driven economy" and what it means for business.'  (Ethical Corporation, September 2010).
Spend Shift offers 10 "take-aways spelling out the traits of the new America... It's a handy list for marketers and business managers" – The Wall Street Journal

"A timely look at how the economic malaise has affected how and what consumers buy" – The Washington Post

"Nothing and Everything — What Consumers Expect from The New Normal" – The Huffington Post

"Is this the future of commerce?" -- Fast Company

"The post-crisis consumer is a much different person. Consumers are making amends for their sins of credit and have become disciples of debit. They're simplifying and spending money that truly empowers and adds value to them while shedding the glitter and the bling." -- Forbes

"If you recognize that you might have made a Spend Shift, want to explore what values other than frugality are being embraced by your kindred spirits coast to coast, or want to know how various companies and brands are making a very intentional effort to prioritize values over profits, Spend Shift breaks these national trends down to a very relatable, human scale while still providing a heavy dose of education about this major change in our collective consciousness around consumption."  – The Boston Globe
"How We Shop – A New Revolution"--CNBC