Spiral Dynamics: Mastering Values, Leadership and Change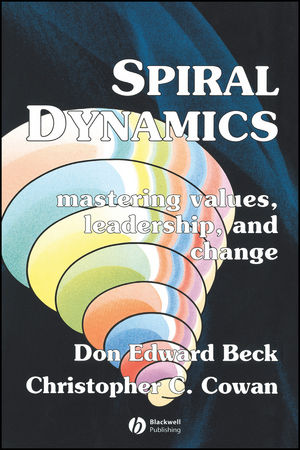 Spiral Dynamics: Mastering Values, Leadership and Change
ISBN: 978-1-118-77915-6 December 2014 Wiley-Blackwell 352 Pages
Description
Spiral Dynamics introduces a new model for plotting the enormous economic and commercial shifts that are making contemporary business practice so complex and apparently fragmented. Focusing on cutting-edge leadership, management systems, processes, procedures, and techniques, the authors synthesize changes such as:



Increasing cultural diversity.

Powerful new social responsibility initiatives.

The arrival of a truly global marketplace.
This is an inspiring book for managers, consultants, strategists, and leaders planning for success in the business world in the 21st century.
Introduction.
Part I: Overview of Spiral Dynamics:.
1. Different Times Produce Different Minds.
2. The Nature of MEME systems.
3. The Mind of the Spiral.
Part II: The Dynamics of the Spiral's MEME's:.
4. Change and the Spiral.
5. The Dynamics of Leadership.
6. Spiral Wizardry.
7. Spiral Alignment: Streaming Visions into Reality.
8. Spiral Integration: Power and Precision in Organization Design and Transformation.
Part III: The Spiral Wizard's Field Manuel: .
9. Beige: Survival Sense. The Instinctive MEME.
10. Purple: KinSpirits. The Clannish MEME.
11. Red: PowerGods. The Egocentric MEME.
12. Blue: TruthForce. The Purposeful MEME.
13. Orange: StriveDrive. The Strategic MEME.
14. Green: HumanBond. The Relativistic MEME.
15. Stepping Over to the Second Tier. Yellow: FlexFlow. The Systematic MEME.
16. The Second Tier, A Second Step. Turquoise: GlobalView. The Holistic MEME.
Part IV: Global Order and Chaos on the Dynamic Spiral:.
17. Global Awakenings: 'New World Order' (and Chaos).
Resources for Spiral Wizards





presents a new framework for understanding the dynamic forces at work in human affairs – business, personal lives, education, and even geopolitics;





focuses on cutting-edge leadership, management systems, processes, procedures, and techniques;





synthesizes changes such as: increasing cultural diversity; powerful new social responsibility initiatives; the arrival of a truly global marketplace;





adds power and precision to the theory of human systems and the 21st century leadership;





meshes UK biologist Richard Dawkins' concept of "memes" with Gravesian "value systems" and lays out a very specific Tool Kit for managing the deepest differences in people;





demonstrates how, by applying the right tools at a base level rather than to surface symptoms, any bright, curious human being can, quite simply, change the world.