Spirituality and Social Embodiment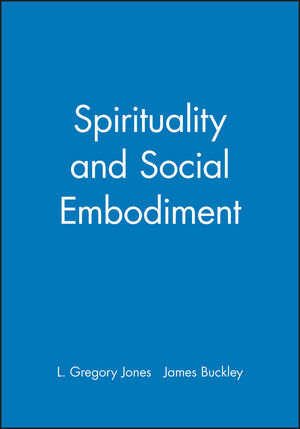 Spirituality and Social Embodiment
ISBN: 978-0-631-20482-4 May 1997 Wiley-Blackwell 180 Pages
Description
"Spirituality" often takes us out of the public world to a more inward (so-called "mystical") space, while "politics" calls us beyond ourselves to the more material realities of social embodiment.
1. A Thirst for God or Consumer Spirituality?.
Cultivating Disciplined Practices of Being Engaged by God: L. Gregory Jones (Loyola College, Maryland).
2. Interiority and Epiphany: A Reading in New Testament Ethics: Rowan Williams (Bishop of Monmouth, Wales).
3. Mystical Theology Redux: The Pattern of Aquinas' Summa Theologiae: A. N. Williams (University of Puget Sound).
4. Julian of Norwich - Incorporated: F. C. Bauerschmidt (Loyola College, Maryland).
5. A Christian, Holy People: Martin Luther on Salvation, Faith and Church: David S. Yeago (Lutheran Theological Southern Seminary).
6. The Church In The State We're In: Nicholas Lash (University of Cambridge).
7. Wrestling with a Wounding Word: Reading the Disjointed Lines of African American Spirituality: Willie James Jennings (Duke University).
"Students of theology will welcome this study and enjoy the varied presentations and I believe they will return to them, a pleasure made all the more attractive by the index."
Anthony Lovegrove, Haslemere
"This book of essays is a selection of writings from some of todays most thoughtful theologians. The theme of the book is an attempt to engage with both the realm of the mystical and that of the material utilising traditional reasources in creative ways. All of the essays are intriguing and cover a wide range of topics.....they all go a long way in contributing valuable arguments to the current debates surrounding the relevance and message the chuch has to offer the larger community.
* All essays are diverse and propose no single way to link spirituality and embodiment.
* Several essays re-read classical spiritual and political traditions represented in the New Testament, Bernard of Clairvaux, Thomas of Aquinas, Julian of Norwich and Martin Luther.
* Essays address peculiarly modern problems - contemporary appeals to "inwardness", reifications of The State, and competing African-American spiritualities.
* Each essay is concerned with finding a theological way of holding together what is usually divided.