Spirituality in the Workplace: A Philosophical and Social Justice Perspective: New Directions for Adult and Continuing Education, Number 152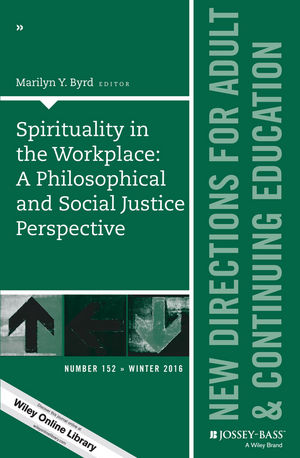 Spirituality in the Workplace: A Philosophical and Social Justice Perspective: New Directions for Adult and Continuing Education, Number 152
ISBN: 978-1-119-35757-5 January 2017 Jossey-Bass 104 Pages
Download Product Flyer
Download Product Flyer
Download Product Flyer is to download PDF in new tab. This is a dummy description. Download Product Flyer is to download PDF in new tab. This is a dummy description. Download Product Flyer is to download PDF in new tab. This is a dummy description. Download Product Flyer is to download PDF in new tab. This is a dummy description.
Description
Missing from the discourse on spirituality are the injustices experienced in the workplace, particularly by individuals marginalized by social group identity or affiliation. This is a critical omission in that spirituality can stimulate reflection, response, healing, and transformation of the soul.

Filling the gap by addressing the role of spirituality in relation to meaningful work, this volume extends ideas about teaching and learning about spirituality to workplace settings, including the transformative learning theory. In seeking ways to promote moral and socially responsible workplaces and to establish a new way of thinking, the volume lays down a philosophical framework for spirituality in the workplace as a means of emancipation and social justice, and shows how the workplace can be a fruitful context for social justice education.

This is the 152nd volume of the Jossey Bass series New Directions for Adult and Continuing Education. Noted for its depth of coverage, it explores issues of common interest to instructors, administrators, counselors, and policymakers in a broad range of education settings, such as colleges and universities, extension programs, businesses, libraries, and museums.
Table of contents
EDITOR'S NOTES 5
Marilyn Y. Byrd
1. Spirituality as Foundation of Agency in Turbulent Economic Times 9
K. Peter Kuchinke
In this chapter, the author discusses the changing meaning of work and the struggle for wholeness in the complex, fast-paced, modern world of work.
2. Social Justice and Spirituality: Educating for a Complicated Workplace 19
Leona M. English, Paula Cameron
This chapter addresses spiritually relevant and social justice-directed components needed in higher education curricula to help learners transition from educational to organizational settings.
3. To Address Suffering That the Majority Can't See: Lessons from Black Women's Leadership in the Workplace 29
Cynthia B. Dillard
This chapter addresses the resiliency of Black women administrators in higher education who continue to love, lead, and live despite the quiet sufferings experienced from a racialized reality.
4. Womanist Pedagogical Love as Justice Work on College Campuses: Reflections from Faithful Black Women Academics 39
Kirsten T. Edwards, Valerie J. Thompson
In this chapter, the authors use personal narratives and draw on womanist and Black feminist literature to describe Black women's pedagogical justice work on college campuses as a labor of love that is infused by the spirit.
5. Spirituality: The Core of Healing and Social Justice from an Indigenous Perspective 51
Cyndy Baskin
In this chapter, the author applies an Indigenous philosophy that embraces a holistic view of spirituality. Spirituality embodies interconnectedness and interrelationships that bring meaning and fulfillment into life and work.
6. Creating Spaces for Transformative Learning in the Workplace 61
Janet Groen, Colleen Kawalilak
In this chapter, the authors draw on personal experiences as educators and apply spirituality and transformative learning to their work in a university setting.
7. Spirit-ness at Work: Connections Between Workplace Spirituality, Transformative Learning, and Social Justice 73
Derise E. Tolliver
In this chapter, the author builds on transformative learning and connect learning to Spirit-ness. Spirit-ness is a natural extension of self and can be a grounding force when one is faced with challenge and injustice.
8. The Enlightened Revelation: Toward a Spirit-Centered, Socially Just Workplace 85
Marilyn Y. Byrd
In this chapter, the enlightened revelation framework is introduced as an integrative framework for learning and education. The framework serves as a model of spiritual liberation for confronting the reality of social injustice in the modern workplace.
INDEX 95