Sport and Physical Activity for Mental Health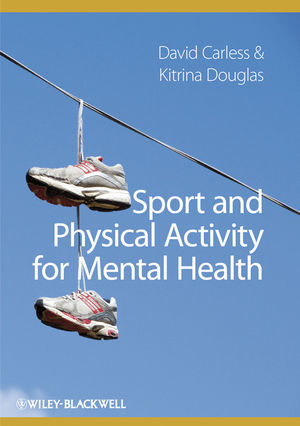 Sport and Physical Activity for Mental Health
ISBN: 978-1-444-34820-0 August 2011 Wiley-Blackwell 192 Pages
Description
With approximately 1 in 6 adults likely to experience a significant mental health problem at any one time (Office for National Statistics), research into effective interventions has never been more important. During the past decade there has been an increasing interest in the role that sport and physical activity can play in the treatment of mental health problems, and in mental health promotion. The benefits resulting from physiological changes during exercise are well documented, including improvement in mood and control of anxiety and depression. Research also suggests that socio-cultural and psychological changes arising from engagement in sport and physical activity carry valuable mental health benefits.

Sport and Physical Activity for Mental Health is an evidence-based practical guide for nurses, allied health professionals, social workers, physical activity leaders, and sport coaches. The authors provide comprehensive analysis of a broad range of client narratives, integrating theory and the latest research to explore the effectiveness of various interventions. The book offers readers detailed recommendations, suggestions, and ideas as to how sport and physical activity opportunities can be tailored to provide the greatest mental health benefits.
Acknowledgements.
Credits.
Introduction.
Part I: Setting the scene.
1 A background to mental health and physical activity.
2 A narrative approach to mental health research.
Part II: Understanding physical activity and sport in mental health.
3 Personal stories of sport, physical activity and mental health.
4 Rebuilding identity through sport and physical activity.
5 Action, achievement and relationships.
6 Physical activity as a stepping stone in recovery.
Part III: Practice and provision of physical activity and sport.
7 The culture of physical activity and sport.
8 Women in sport and physical activity.
9 Social support for participation.
10 Practitioner perspectives.
11 A story from practice.
12 Looking to the future.
References.
Index.
"In this evidence-based guide for nurses, allied health professionals, social workers, physical activity leaders, and coaches, Carless (Carnegie Research Institute, Leeds Metropolitan U., UK) and Douglas (exercise, nutrition, and health, U. of Bristol, UK) examine a unique topic: the beneficial role of sport and physical activity in the treatment of mental health problems. They address both the role of physical activity in these individual's lives and the types of activity most likely to be useful. They cover the experience of mental health problems, processes of recovery, research in the area of physical activity, and what is missing from research; stories of individuals who have experienced mental health problems and the effects of physical activity; and different settings and factors, the needs of women, providing social support, and practitioner views." (Book News Inc, November 2010)