Sports-Based Youth Development: New Directions for Youth Development, Number 115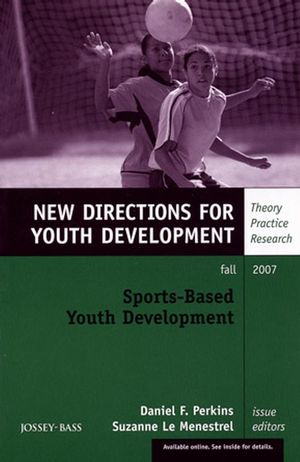 Sports-Based Youth Development: New Directions for Youth Development, Number 115
ISBN: 978-0-470-22817-3
Nov 2007, Jossey-Bass
136 pages
Description
Over 40 million youth participate in organized sports, and playing some sort of sport as a youth has become an American tradition. Boys and girls have a wide array of choices and become engaged in sports for a variety of reasons. The focus of this volume is organized youth sports programs that occur during the out-of-school-time hours, in particular, programs that emphasize youth development outcomes.

The articles review the benefits of participation in youth sports programs, including health in general, with attention focused on innovative and unique sports-based youth development programs that are cropping up across the country. Other themes are how to better integrate youth sports programs with more traditional afterschool programs and how to redefine competition in youth sports programs. Authors introduce the term "sports-based youth development programs" and provide examples of successful programs that use a particular sport to facilitate learning and life skill development.

This volume also looks at several youth sports intermediary organizations focused on youth development and how these organizations are providing technical assistance, training, and financial support to youth sports programs around the country and the rest of the world.

This is the 115th issue of the Jossey-Bass quarterly report series New Directions for Youth Development.