Sportswriting: The Lively Game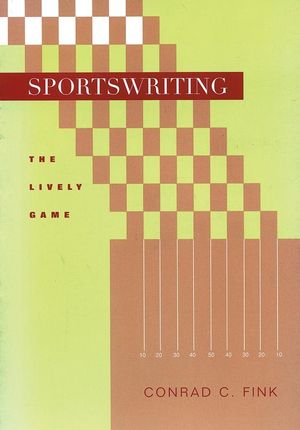 Sportswriting: The Lively Game
ISBN: 978-0-813-82246-4 February 2001 Wiley-Blackwell 304 Pages
Description
Think all it takes to be successful sportswriter is a love of sports? Read
Sportswriting: The Lively Game
and find out—sports fan is one thing: a sports report is another!
Conrad C. Fink, veteran journalist, editor and the author of Bottom Line Writing: Reporting the Sense of Dollars and Writing Opinion for Impact, provides another common sense, real-life approach for journalism or sports management students wishing to break into the exciting, fast-paced world of sportswriting.

In vivid writing that is packed with the realities of sports reporting, Professor Fink provides insight only a veteran journalist can, such as:



Media strategies for you and your editor


Defining your demographic target


What are the new sports values


Who are your competitors in the sports arena
Learn to write quickly yet with impact; seek out the offbeat and unusual stories your editor and readers want; and recognize the potential conflicts inherent to sports reporting.
Table of contents
Preface.
Acknowledgments.
Part One: The Kickoff.
1. The Writer's Arena.
2. What You Owe Your Readers.
Part Two: Our Blocking and Tackling: Strong Reporting.
3. Reporting the Key Elements.
4. Reporting the Wider Picture.
Part Three: Making the Writer's Muse Move.
5. Writing It Straight.
6. Taking Readers Beyond the Score.
Part Four: Covering the Majors.
7. Covering Football: A Case Study.
8. Covering Baseball.
9. Covering Basketball.
Part Five: Covering the Others.
10. The Wider World of Sports.
Part Six: Columns: The Winner's Circle in Sportswriting.
11. Writing Game Columns.
12. In This Corner.
Addendum.
Name Index.
Subject Index.