Squarespace 6 For Dummies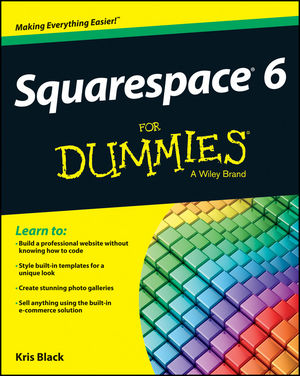 Squarespace 6 For Dummies
ISBN: 978-1-118-57538-3
Aug 2013
360 pages
Description
Build your own blog, website, or portfolio with Squarespace
Squarespace lets you create visually rich web pages with any configuration of text, images, or blocks you wish, just by dragging and dropping. Even if you've been using earlier versions of Squarespace, the features in version 6 will amaze you - and bring you straight to this must-have guide for practical information! If you're a do-it-yourself website builder, get up to speed fast on all the next-generation Squarespace tools, including cool new features for mobile sites, SEO, social networks, and more.
Brings you up to speed on Squarespace 6 and its revolutionary LayoutEngine tool for building visually-rich web pages
Deciphers the very latest features for page-building in today's markets, including mobile, social media, and using SEO
Delves into using auto-publish for social networks, using built-in mobile websites, syncing with social networks, gathering real-time statistics, managing your site from your smartphone or mobile device, and much more
Covers the essentials, such as using templates, drag-and-drop image uploads, image-editing with Aviary, and using Page Builder to create, share, and reblog content
Build awesome, professional websites for your business in no time with Squarespace 6 For Dummies.
Introduction 1
Part I: Getting Started with Squarespace 6 7
Chapter 1: What Squarespace Can Do for You 9
Chapter 2: Getting Ready to Build Your Website 17
Chapter 3: Signing Up 35
Chapter 4: Finding Your Way around Squarespace 43
Part II: Designing Your Website 61
Chapter 5: Considering Your Template Needs 63
Chapter 6: Web Design 101 71
Chapter 7: Customizing with Style Editor 79
Part III: Building Your Website 97
Chapter 8: Working with Pages and Collections 99
Chapter 9: Creating Pages in Your Site 107
Chapter 10: Building Your Pages with Items and Blocks 129
Part IV: Personalizing Your Website 149
Chapter 11: Creating Content with Content Blocks 151
Chapter 12: Adding Multimedia with Content Blocks 165
Chapter 13: Navigating with Structure Blocks 179
Chapter 14: Automating Updates with Social Blocks 187
Part V: Extending Your Website 195
Chapter 15: Confi guring Site Settings 197
Chapter 16: Monitoring Site Activity 229
Chapter 17: Setting Up Shop with Commerce 241
Chapter 18: Going Out with Squarespace 267
Part VI: The Part of Tens 299
Chapter 19: Ten Features of a Good Website 301
Chapter 20: Ten Ways to Attract Attention to Your Site 311
Chapter 21: Ten Ways to Make or Save Money 321
Index 329
Updates
Please check back here for updates.