Squirrel Inc.: A Fable of Leadership through Storytelling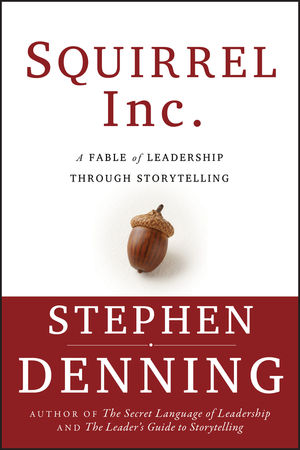 Squirrel Inc.: A Fable of Leadership through Storytelling
ISBN: 978-0-787-97539-5
May 2004, Jossey-Bass
208 pages
Description
Take a satirical scamper through organizational life in the midst of  changing times, brought to you by master storyteller and former World Bank executive Steve Denning. With wisdom and a healthy dose of wit, Denning introduces a cast of furry characters who together learn the fine art of change through storytelling in their quest to overcome obstacles, generate enthusiasm and teamwork, share knowledge, and ultimately lead their company into a new era of success and significance. Through the stories of Squirrel Inc., readers will learn that the ability to tell the right story at the right time can determine the outcome of any major change effort. In each chapter Denning's squirrels learn to use storytelling to address leadership challenges:
 How to bring about change

 How to communicate who you are

 How to transmit values

 How to foster collaboration

 How to stop rumors

 How to share knowledge

How to lead your organization into the future
Preface xiii
The author explains the purpose of the book and the process by which it came to be written.
Part One
1 Squirrel Inc.: How to Craft a Story to Spark Organizational Change 3
Diana is an up-and-coming executive at Squirrel Inc., an organization in decline. She seeks guidance from a bartender on how to persuade the organization to change. She learns, in nine steps, how to craft a story to communicate a complex idea and spark action.
2 Diana Tells Her Story: How to Perform the Story to Spark Change 25
After initial success with her story at Squirrel Inc., Diana returns to seek further guidance from the bartender on how to enhance the performance of her story.
Part Two
3 Save Squirrel Inc. Night: Seven Types of Organizational Storytelling 41
After the success of her story with the managing committee of Squirrel Inc., Diana joins employees to explore other ways in which storytelling can help address the challenges the firm is facing.
4 Whyse's Story: How to Use Storytelling to Reveal Who You Are and Build Trust 49
Whyse shows how storytelling can enhance communication in corporate environments by communicating who you are.
5 Hester's Story: How to Use Storytelling to Get Individuals to Work Together 59
Hester shows how storytelling can be used to get individuals working together. She presents five steps to craft a story for nurturing a community.
6 Mark's Story: How to Use Storytelling to Transmit Values 69
Mark shows how stories that are told and retold in a organization, particularly about the organization's leaders, transmit the organization's values.
7 Mocha's Story: How to Use Storytelling to Tame the Grapevine 79
Mocha shows how humor can be used to harness the power of the informal network of communication in an organization and to tame the grapevine by neutralizing rumors and bad news.
8 Howe's Story: How to Use Storytelling to Share Knowledge 89
Howe shows how the sharing of knowledge takes place through a particular kind of narrative.
9 Sandra's Story: How to Use Storytelling to Create a Future 101
Sandra shows how future stories—visions, business models, scenarios—help organizations move into the future. Meanwhile Howe reveals some unexpected developments within Squirrel Inc.
10 Howe Upsets the Acorns: How Individuals and Organizations React to Change 115
The discussion in the bar now turns to what will happen next at Squirrel Inc. Will the old way of doing business triumph? Or will Squirrel Inc. carry through with the change? The characters explore these and other possibilities.
Part Three
11 The Journey of a Leader: Staying Alive Through the Dangers of Leadership 127
As the continuing tale of Squirrel Inc. unfolds, the characters encounter a variety of surprises and Diana goes on a journey.
12 The Return to Squirrel Inc.: Living the Story as Well as Telling It 143
We learn the impact of storytelling on Squirrel Inc. and on Diana herself.
Seven High-Value Forms of Organizational Storytelling 150
The nature, form, and purpose of seven high-value kinds of organizational storytelling are compared, in a table.
Notes 155
Further reading 169
Write to the author 177
Acknowledgments 179
About the author 181
"…a very effective management tool…it is sure to inspire readers working in all sorts of organizations…" (
Edge Magazine
, February 2005)
"…This charming little book holds many secrets within its attractive covers…." (City to Cities, Jan/Feb 2005)
"…clearly encapsulates both the why and how of seven types of organisational storytelling". (Knowledge Management, September 2004)
"…makes serious points about leadership and change…" (Financial Times, 29 July 2004)