Stahlbau-Kalender 2011: Schwerpunkte: Eurocode 3 - Grundnorm, Verbindungen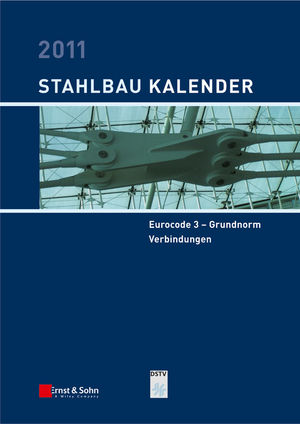 Stahlbau-Kalender 2011: Schwerpunkte: Eurocode 3 - Grundnorm, Verbindungen
ISBN: 978-3-433-60551-6 August 2014 696 Pages
Description
Migrating to Eurocode 3 is the main topic of the 2011 Steel Structures Yearbook which focusses on joints and connections.
Table of contents
1 Europarechtliche Regelungen und ihre Auswirkungen auf nationale Verordnungen und die Baupraxis (Gerhard Scheuermann).
2 Stahlbaunormen – DIN EN 1993-1-1: Allgemeine Bemessungsregeln und Regeln fur den Hochbau (Ulrike Kuhlmann, Antonio Zizza).
3 Stahlbaunormen – DIN EN 1993-1-8: Bemessung von Anschlussen (Dieter Ungermann, Stephan Schneider).
4 Technische Baubestimmungen, Normen, Bauregellisten und Zulassungen im Stahlbau (Karsten Kathage, Christoph Ortmann).
5 Ausfu¨ hrung geschraubter Verbindungen nach DIN EN 1090-2 (Herbert Schmidt, Natalie Stranghoner).
6 nderungen bei der Ausfu¨ hrung geschweißter Konstruktionen nach DIN EN 1090 (Jorg Mahrlein, Rainer Zwatz).
7 Anschlu¨ sse mit Hohlprofilen nach DIN EN 1993-1-8 – Hintergrund, Kommentare, Beispiele (Ram Puthli, Thomas Ummenhofer, Jaap Wardenier, Ina Pertermann).
8 Zugstabe und ihre Anschlusse (Thomas Ummenhofer, Thomas Misiek, Karsten Kathage).
9 Setzbolzen und Metallbauschrauben (Hermann Beck, Michael Siemers, Martin Reuter).
10 Kleben im konstruktiven Glasbau (Bernhard Weller, Michael Kothe, Felix Nicklisch, Thomas Schadow, Silke Tasche, Iris Vogt, Jan Wunsch).
11 Zur Dokumentation von Tragwerksplanung, Standsicherheit und Werkstattplanung von Stahlbauten (Ralf Steinmann).
12 berarbeitung der ATV DIN 18335 "Stahlbauarbeiten" (Karl Heinz Guntzer).
Stichwortverzeichnis (Hinweis des Verlages).
Die Recherche zum Stahlbau-Kalender ab Jahrgang 1999 steht im Internet zur Verfu¨ gung unter www.ernst-und-ohn.de.