Stairways to the Stars: Skywatching in Three Great Ancient Cultures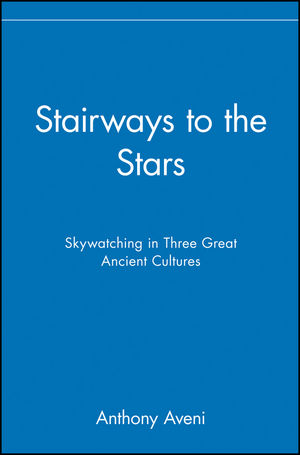 Stairways to the Stars: Skywatching in Three Great Ancient Cultures
ISBN: 978-0-471-32976-3
Feb 1999
240 pages
Description
"Tony Aveni has written a marvelous book about how the celestial rhythms influenced the cultures of the past. . . . It makes fascinating reading for any layperson."—Science Books and Films

"Clearly, if we can know more about these people, their religion, their culture, their hopes and dreams, according to Dr. Aveni, it will make our understanding of their astronomy more meaningful."—Planetarian

"A thoughtful analysis . . . highly recommended."—Library Journal

What was the meaning of Stonehenge? What was the Mayan Code? Why was the elaborate Incan city of Cuzco built? Groundbreaking archaeoastronomer Anthony Aveni offers a host of startling new insights and conclusions in this acclaimed study of three of life's most mesmerizing mysteries.
Introduction: A Different Sort of Cosmos.
The Naked Sky.
Standing Stones and Stars: Megalithic Astronomy and the People of Ancient Great Britain.
Power from the Sky: Ancient Maya Astronomy and the Cult of Venus.
City and Cosmos Astronomy and the Inca Empire.
The West Vs.
the Rest?
Appendices.
Notes.
Illustration Credits.
Index.
In this work, Tony Aveni, a leading archaeoastronomer from Colgate University, has written a marvelous book about how the celestial rhythms influenced the cultures of the past...fascinating reading.—Science Books and Films
"Clearly, if we can know more about these people, their religion, their culture, their hopes and dreams, according to Dr. Aveni, it will make our understanding of their astronomy more meaningful. This is a good book worth several readings!"—Planetarian