Stand for the Best: What I Learned after Leaving My Job as CEO of H&R Block to Become a Teacher and Founder of an Inner-City Charter School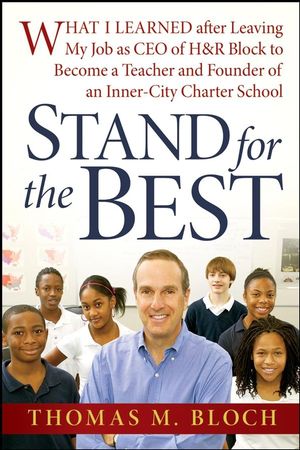 Stand for the Best: What I Learned after Leaving My Job as CEO of H&R Block to Become a Teacher and Founder of an Inner-City Charter School
ISBN: 978-0-470-63959-7
Feb 2010, Jossey-Bass
240 pages
Description
Thirteen years ago, Tom Bloch was CEO of H&R Block, the groundbreaking tax organization. The son of the company's founder, he was a happily married 41-year-old executive, but something was missing from his life. After a nineteen-year career at the company, Bloch resigned his position to become a math teacher in an impoverished inner-city section of Kansas City. Stand for the Best reveals Bloch's struggles to make a difference for his marginalized students and how he eventually co-founded a successful charter school, University Academy.
Acknowledgments.
Introduction.
1 Off the Block.
2 Back to School.
3 Into the Trenches.
4 On the Learning Curve.
5 A Question of Character.
6 A New Kind of Urban School.
7 Great Expectations.
8 Making the Grade.
9 Moving the School.
10 Real Heroes.
11 A Duty to Dream.
12 Th e Next Urban Teacher.
13 A Calling.
14 Midterm Exam.
Epilogue.
Appendix.
Notes.
Selected Web Sites.
Index.
"The lessons from Mr. Bloch's journey — on the importance of courage, risk-taking, passion and service in our lives — are valuable to us all as citizens, leaders, social-change agents and human beings." (The Washington Times, October 2008)