Standard Letters in Architectural Practice, 3rd Edition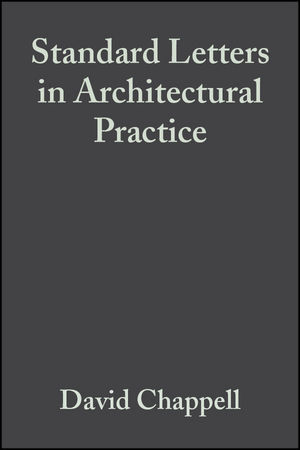 Standard Letters in Architectural Practice, 3rd Edition
ISBN: 978-0-470-75928-8 January 2008 Wiley-Blackwell 320 Pages
Description
Architects and contract administrators spend a great deal of time writing letters of various types. Many of them are routine and repetitive in character, but they require proper consideration if potentially dangerous liability situations are to be avoided.


This book provides some 285 standard letters for use at all stages of project administration. To assist the user, they are grouped into sections which correspond with the RIBA Plan of Work: the aim is to cover all the common situations encountered in practice.


The book has been revised to take account of the latest contract revisions and many letters have been added. Unless otherwise stated, all letters are suitable for use with:



JCT 98

WCD 98

IFC 98

MW 98

GC/Works/1 (1998)
The latest edition also takes account of the three new RIBA Standard Forms of Agreement for Appointment of an Architect: SFA/99, CE/99 and SW/99

Although primarily written for architects and contracts administrators, the book will also be of use to project managers and employers' agents under WCD 98. Contractors will also find much of interest.
1. Appraisal.
2. Strategic brief.
3. Outline proposals.
4. Detailed proposals.
5. Final proposals.
6. Production information.
7. Bills of quantities.
8. Tender action.
9. Project planning.
10. Operations on site.
11. Completion.
12. Feedback
* Standard letters save time and reduce contract problems.
* Many changes to contracts (and so to the letters) since last
edition in 1994.
* From best-selling building contract author.
* Includes free CD-Rom of all letters so these can be customised.