Standpoints: 10 Old Ideas In a New World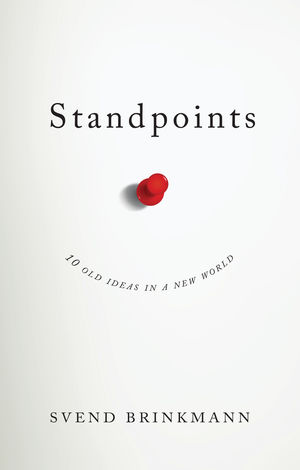 Standpoints: 10 Old Ideas In a New World
ISBN: 978-1-509-52376-4 March 2018 Polity 160 Pages
Description
Self-help gurus, life coaches and business consultants love to tell us that we must strive for constant self-improvement to realize our full potential and become truly happy. But it doesn't seem to work - for many of us, life still seems hollow and meaningless. So focused are we on personal development and material possessions that we've overlooked the things that make life truly fulfilling and worthwhile.

So how do we figure out what's really worth striving for? In this compelling follow-up to his bestselling book Stand Firm, Danish philosopher and psychologist Svend Brinkmann shows us that the important things in life are those with intrinsic value, like goodness, freedom, truth and love. We should stop asking 'what's in it for me?', and turn our attention outwards to our friends, families and communities. By putting others first and embracing these unconditional principles, or standpoints, he argues, we can find a more meaningful and sustainable way of living.
Table of contents
Contents
Foreword
Prologue: The Meaningful Life
1. The Good (Aristotle)
2. Dignity (Kant)
3. The Promise (Nietzsche)
4. The Self (Kierkegaard)
5. Truth (Arendt)
6. Responsibility (Løgstrup)
7. Love (Murdoch)
8. Forgiveness (Derrida)
9. Freedom (Camus)
10. Death (Montaigne)
Epilogue: Perspectives on the Meaning of Life
Reviews
"In this crisply-written, page-turner of a book, Svend Brinkmann courageously demonstrates how we can stand firm against the tsunami of societal mandates for self-improvement, with their reality-defying instructions for achieving happy, healthy, wealthy lives. Easy and fun to read, Standpoints breathes new life into the old philosophers who have something new and important to tell us yet."
Barbara S. Held, Barry N. Wish Professor of Psychology and Social Studies Emerita, Bowdoin College



"A short, clever, witty book which gradually and powerfully builds a forensic critique of the self obsessions of modern culture. Provocative and highly enjoyable."
Matthew Taylor, The Royal Society of Arts
"With characteristic aplomb, Svend Brinkmann follows his wildly popular Stand Firm with a timely set of reminders about what makes a human life worth living. Brinkmann wears his wisdom lightly, but it is wisdom indeed that he wears."
Todd May, Clemson University