Start It, Sell It & Make a Mint: 20 Wealth-Creating Secrets for Business Owners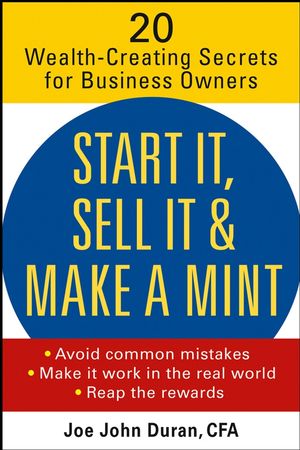 Start It, Sell It & Make a Mint: 20 Wealth-Creating Secrets for Business Owners
ISBN: 978-0-471-47961-1
May 2004
256 pages
Product not available for purchase
Description
Real world anecdotes and step-by-step strategies to build and sell a successful business
Half of the roughly one million businesses that start up every year fail because of insufficient financing, poor management, or lack of basic entrepreneurial skills. Based on his own experience as well as those of the many other successful business owners interviewed for this book, Joe John Duran explains how to overcome these obstacles. This reader-friendly book offers easy-to-follow advice, including 20 vital secrets that will help business owners avoid the most common mistakes, grow their businesses successfully, and then sell them at the highest price possible.
Joe John Duran (Santa Monica, CA) built a national investment firm with billions under management and thousands of clients. Within 10 years of creating it, he sold it to General Electric for tens of millions of dollars. He is a chartered financial analyst, CEO of Alchemy Capital, Chairman of Finance of the Santa Monica Bay Young Presidents Organization (YPO), and a member of the Association of Investment Management Research (AIMR) and the Los Angeles Society of Financial Analysts (LASFA).
INTRODUCTION.
Chapter ONE: My Story.
Chapter TWO: The Business Leader.
Vital Secret #1: Run the company like a business, not a hobby.
Vital Secret #2: Be what you want your company to become.
Vital Secret #3: Delegate, don't abdicate.
Chapter THREE: The Culture.
Vital Secret #4: Put people first, make them feel special.
Vital Secret #5: Run your company as an open meritocracy.
Chapter FOUR: The People.
Vital Secret #6: Hire people whose skills complement yours, rather than mirror them.
Vital Secret #7: Skills can be learned, attitudes cannot.
Chapter FIVE: The Operations.
Vital Secret #8: Develop procedures that provide consistency and predictability.
Chapter SIX: The Product.
Vital Secret #9: Provide differentiated products and services; you cannot win the low cost battle.
Chapter SEVEN: Sales and Marketing.
Vital Secret #10: Identify and market to a niche.
Vital Secret #11: Referrals are the cheapest and most effective way to get clients.
Vital Secret #12: Create a self-sustaining sales system.
Chapter EIGHT: The Financials.
Vital Secret #13: Pay attention to the cash; tomorrow's profits won't pay today's bills.
Vital Secret #14: Focus on generating recurring revenues.
Chapter NINE: Acquisitions.
Vital Secret #15: Make acquisitions that are an extension of what you do.
Chapter TEN: How I Sold My Business.
Chapter ELEVEN: Preparing Your Business for Sale.
Vital Secret #16: Make yourself dispensable.
Vital Secret #17: Sell when things are going great.
Vital Secret #18: Reward the people that are important to the transaction.
Chapter TWELEVE The Negotiation.
Vital Secret #19: Deals either ripen or rot, so ABC (Always Be Closing).
Chapter THIRTEEN Letting Go.
Vital Secret #20: Be gracious and smile when you leave.
INDEX.