Start and Grow Your Faith-Based Nonprofit: Answering Your Call in the Service of Others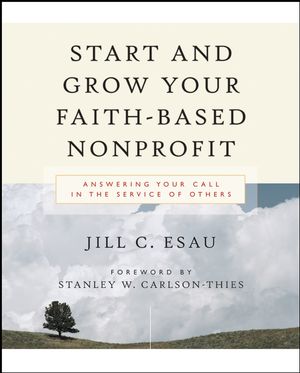 Start and Grow Your Faith-Based Nonprofit: Answering Your Call in the Service of Others
ISBN: 978-0-787-98091-7
Jul 2005, Jossey-Bass
250 pages
Description
Start and Grow Your Faith-Based Nonprofit offers clear guidance on how to fund and manage a faith-based social ministry. If you have been called by God to fulfill a mission through a nonprofit organization, this is the book for you. Written specifically for grassroots faith-based groups, this important book is a tool for the thousands of individuals and churches that heal emotional, physical, and spiritual wounds through faith-based social service programming. In this much-needed resource, Jill C. Esau, founder of We Care Northwest--a nonprofit designed to build capacity in and advocate on behalf of faith-based organizations, provides professional step-by-step guidance. Start and Grow Your Faith-Based Nonprofit addresses vital issues such as church sponsorship, volunteer management, the grant making process, observing government regulations and certification, fiscal responsibilities, partnering with complementary programs, and much more.
Foreword (
Stanley W. Carlson-Thies
).
Preface.
Acknowledgments.
The Author.
Introduction.
ONE: Answering Your Call: How Do You Want to Make a Difference?
TWO: Building Your Foundation: Mission, Vision, and Values.
THREE: The Nuts and Bolts of Your Nonprofit: Incorporation, Boards, Budgets, and More.
FOUR: Fundraising with a Plan: How Much Money Do You Need and How Will You Get It?
FIVE: Setting Up Shop: Location, Logistics, and Timing.
SIX: Partnering for a Purpose: Charitable Choice Laws and Government Funding/
SEVEN: Considering Advocacy: When, Why, and How Should You Advocate in the Public Sector?
EIGHT: Certification and Evaluation: The Importance of Measuring Your Results.
Conclusion: Where Do You Go from Here?
Resource A: Articles of Incorporation of Weekend Conferences Northwest.
Resource B: Bylaws of Weekend Conferences Northwest.
Resource C: Charitable Choice: Frequently Asked Questions (Stanley W. Carlson-Thies).
Resource D: Government Funding Policy: CityTeam Ministries.
Resource E: Where to Go for Help.
Index.