Starting Your Own Practice: The Independence Guide for Professional Service Providers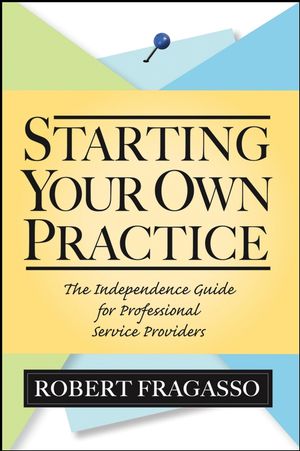 Starting Your Own Practice: The Independence Guide for Professional Service Providers
ISBN: 978-0-471-74576-1
Sep 2005
256 pages
Product not available for purchase
Description
Praise for STARTING YOUR OWN PRACTICE

""This book will become your blueprint for success if you decide to go down the path of going into business for yourself.""
--Dr. Bob Froehlich, Chairman Investor Strategy Committee, Scudder Investments

If you're tired of working for someone else and have contemplated striking out on your own, Starting Your Own Practice: The Independence Guide for Professional Service Providers can turn your dream of owning an independent business into a reality.

Written from the perspective of successful entrepreneur and investment advisor, Robert Fragasso, this book is designed to help professionals who provide skilled personal service--from investment advisors, brokers, consultants, attorneys, and accountants to computer programmers, healthcare professionals, and architects--make the right choices as they pursue their independent business endeavors.

Filled with in-depth insight and practical advice, Starting Your Own Practice lays out a complete blueprint to business independence that includes:Deciding whether self-employment is right for youHow to leave your current employerStructuring the marketing, management, staffing, and general operation of your businessConverting existing clients or customers to your new business as well as gaining new clients and customersThe best ways to finance your businessProtecting yourself and your business from liability and loss
Foreword.
Preface.
Acknowledgments.
Chapter One: Is It Your Time to Move to Independence?
The Financial Benefits.
Risk.
The Entrepreneurâ??s Test.
Chapter Two: What Does It Mean to Be in Business For Yourself, and Who Does It Well?
Time.
People Make the Difference.
Chapter Three: Creating Your Business.
Choosing Your Market Niche.
Structuring Your Business to Serve Your Market Niche.
Creating Your Organizational Model.
Chapter Four: Staffing and Compensation.
Filling Positions in Your Model with the Right People.
Your Fringe Benefit Package as a Recruitment, Retention, and Productivity Tool.
Fringe Benefits Summary.
Managing Workforce Growth.
Chapter Five: Leaving Your Current Employer.
Preparing for the D-Day Invasion.
Protecting Your Confidentiality.
Chapter Six: Choosing Your Business Space.
Interior Design.
Office Location and Image.
Finding the Right Building.
Negotiating for Space.
Chapter Seven: Equipment and Supplies.
The Rubber Band Phenomenon.
Chapter Eight: Financing.
Chapter Nine: Legal Format and Protecting Your Investment.
Incorporate or Not?
Protecting Your Business Investment.
Chapter Ten: Ask What Your Government Can Do For You.
Federal Government.
State Government.
Local Government.
Other Not-for-Profit Resources.
Chapter Eleven: Converting Existing Clients or Customers to Your New Business.
Chapter Twelve: Gaining New Clients and Customersâ??The Right Way.
â??Man Must Sit in Chair with Mouth Open for Very Long Time before Roast Duck Fly inâ??.
Advertising.
Public Relations.
Create Your Own Public Relations through Newsletters and E-Newsletters.
Direct Mail.
Networking: The Natural Way to Gain New Clients.
Educational Seminars.
Teaching the Seminars.
Referrals.
Chapter Thirteen: Managing Your Business.
The Pugil Stick Effect.
Manage Your Business or It Will Manage You.
Time Management.
Activities Management.
Putting Your Goals into Action.
It Is as Easy as A-B-C.
Techniques of Activities Management.
Summary.
People Management.
Talk, Talk, Talk, and Talk.
Creating Your Organizationâ??s Employee Structure.
Evaluate Results but Manage Activities.
Creating and Implementing Your Businessâ??s Strategic Plan.
Appreciate and Validate or The Duck Sauce Factor.
Which Clients or Customers Do You Want?
Managing Your Clients and Customers.
Treating Clients as People.
Managing during Tough Times.
Chapter Fourteen: Your Exit Strategy.
Price.
Who Will Buy or Receive Your Business?
How to Receive Payment for Your Business.
Special Considerations in Selling to Family Members.
Retirement Planning.
The End of the Rainbow.
Appendix A: Reading List.
Appendix B: Newsletter and E-News Examples.
Index.
About the Author.
""...is written in a clear, common-sense language, ... examples drawn from the author's considerable experience in the financial services industry"" (Accounting Technician, March 2006)